Lawrie to stay in Minors until bat is ready
Lawrie to stay in Minors until bat is ready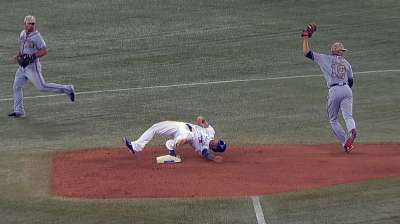 BOSTON -- Brett Lawrie is only 23 years old. That might be worth repeating.
The expectations were big, probably too big, when Lawrie returned to start the 2012 season after a rookie campaign in '11 that surprised even the Blue Jays.
Lawrie, who has been out since spraining his left ankle May 27, held his head above water last year with a .324 on-base percentage and .729 OPS, but he has struggled in limited action in 2013, posting a .268 OBP and .642 OPS.
Manager John Gibbons said Thursday that the Blue Jays may have rushed Lawrie, who began his rehab assignment with Class A Dunedin on Wednesday, this season. After missing the World Baseball Classic due to a rib injury, Lawrie returned on April 16 without any Minor League games under his belt.
The Blue Jays won't rush Lawrie this time. Even when his injured left ankle has healed, he'll stay in the Minors until the team feels his bat is ready.
"We want him playing good before he comes back," Gibbons said. "We jumped the gun a little bit and brought him back out of necessity, and he probably wasn't ready to face Major League pitching. So a slow start to that magnifies it.
"And his personality, he fights it. He's one of those guys who tries harder and harder. Sometimes that's when this game gets tougher to play. So I think a lot of that was a big part of it."
Gibbons said Lawrie has still added value to the team, even though he hasn't been as productive with a bat.
"We screwed up out of necessity," Gibbons said, "but I guarantee he won some games for us with his defense. So it balanced it out.
"He got some key hits along the way. It's not like he didn't do anything. Everybody was expecting him to do what he did when he first arrived, and eventually he will."
Lawrie was 1-for-2 with an RBI in his first rehab game with Dunedin on Wednesday. He'll likely be promoted to Triple-A Buffalo, where he'll spend enough time to get into a groove.
Gibbons said Lawrie will not play any second base during his rehab.
Jason Mastrodonato is a reporter for MLB.com. Follow him on Twitter @jmastrodonato. This story was not subject to the approval of Major League Baseball or its clubs.