Gibbons not worried about Bautista's slump
Gibbons not worried about Bautista's slump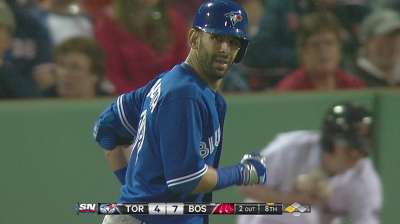 BOSTON -- Even as the Blue Jays have surged to their hottest stretch of the season -- 15 wins in 20 games -- their most recognizable hitter, Jose Bautista, is stuck in a bit of a slump.
Primarily batting second, Bautista entered Friday's game vs. the Red Sox batting just .179 with a .250 on-base percentage in June. His usually gaudy power numbers have dropped as well. He has just one home run and two doubles in his previous 14 games (52 at-bats).
"He's cooled off. He's been in a little rut, no question about it," manager John Gibbons said. "But the team's been playing better with him there. I think it's just a matter of time."
Some have suggested moving Bautista to third or fourth in the batting order, especially with Melky Cabrera on the disabled list, but Gibbons pointed to timing issues in Bautista's swing -- not his spot in the batting order -- as the problem. Gibbons also hasn't heard Bautista complain about batting second, and unless he does, a change does not appear likely.
"Personally, I don't think it makes too much difference to be honest with you," Gibbons said.
It's not as if Bautista has been ineffective this season. He's clubbed 16 home runs and 44 RBIs, but the production level hasn't matched the previous years, when he smashed 124 home runs over the last three years.
Nearly halfway into the 2013 campaign, Gibbons is far from worried.
"Everybody's used to seeing all the home runs and all the doubles, driving in a lot of runs, but he's like anybody else," Gibbons said. "You're going to cool off. You're going to go through those stretches where you're struggling."
"Eventually he's going to catch fire again. And you know what? We'll be that much better off."
Michael Periatt is an associate reporter for MLB.com. This story was not subject to the approval of Major League Baseball or its clubs.