Buehrle welcomes Reds' Bailey to exclusive club
Buehrle welcomes Reds' Bailey to exclusive club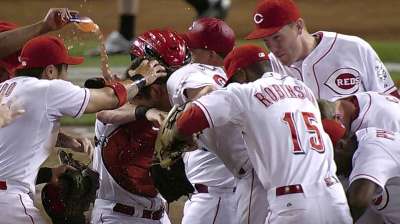 TORONTO -- Reds pitcher Homer Bailey's second no-hitter of his career Tuesday is something that Mark Buehrle is no stranger to.
Buehrle and Bailey are just two of four active pitchers to have two no-hitters on their resumes, joining Justin Verlander and Roy Halladay.
Buehrle pitched both of his while with the White Sox, including a perfect game in 2009, and knows how difficult the feat is to pull off.
"No matter who does it, obviously throwing a no-hitter, a perfect game, in the big leagues is something that's pretty hard to do," Buehrle said. "You got to have so much stuff go your way, and be on top of your A-game, so it's pretty impressive."
As rare an accomplishment as it is, and as dominant a pitcher needs to be, the veteran starter knows that it takes more than a good outing on the mound.
Just take Buehrle's perfect game on July 23, 2009, vs. the Rays, in which Dewayne Wise made a spectacular catch in left-center field that robbed a home run and preserved the perfect game.
"I think it all comes down to luck. It comes down to plays behind you. You have to have that stuff on your side," Buehrle said. "To be honest with you, you have to be good that day and you got to have luck. I know in both of my games I had balls land two inches foul, one in each game. … Whenever that stuff happens, you have to have everything go your way."
Despite being one of just four current pitchers who can boast about throwing two no-hitters in their career, it's nothing Buehrle tends to reminisce about.
"It's not like every day, or every once in a while I just sit there and start thinking about the perfect game or the no-hitter at all," Buehrle said. "Just more focused on what's going to happen now, and my next start. I don't really look back in the past."
Evan Peaslee is an associate reporter for MLB.com. This story was not subject to the approval of Major League Baseball or its clubs.