Anthopoulos happy with strides Romero is making
Anthopoulos happy with strides Romero is making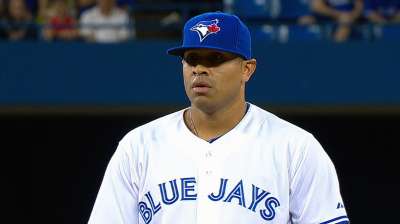 TORONTO -- Since being optioned to the Minor Leagues, Ricky Romero has had his share of ups and downs.
More recently, though, the Blue Jays have started to see some progress from their former ace, outside of a tough outing two starts ago.
"Stuff's good, velocity's good and command is getting better," general manager Alex Anthopoulos said. "He's not there yet, but he's certainly getting better."
Excluding that one ugly performance on June 24, Romero has a 2.19 ERA with 19 strikeouts in 24 2/3 innings over his last four outings.
"The outing that we saw, that was really the outlier for the last four or five starts," Anthopoulos said. "So maybe that's something that happens over time. Maybe he makes four good outings, one shaky one, and then he starts to get going and starts to remove himself a little more."
With that one tough outing, Romero's ERA ballooned to 3.53 ERA over his last five starts, but even that was remarkably better than his first five starts with Triple-A Buffalo that saw him allow 25 earned runs over 19 innings.
It's that type of progress and results that Anthopoulos and his staff are looking for in Romero, who returned to his old mechanics -- the same mechanics that saw him come in 10th in American League Cy Young Award voting in 2011 with a 15-11 record and a 2.92 ERA.
"You're starting to see some of the strikeouts come back, which is important because he's getting ahead and he's able to use his changeup," Anthopoulos said. "From a consistency standpoint, you want to see him have the results he needs to have at that level start after start. So I want to see him do it for a while."
It's not just the mound, however, where Romero needs to make strides. Confidence, or lack thereof, has been a big contributor to his struggles the last couple of seasons, and it's another place where the Blue Jays' GM has seen some improvement.
"It sounds like mentally he's in a good place," Anthopoulos said. "If you talk to the staff down there, he's beyond over-analyzing and worrying about things. He knows he's just got a job to do and get better, so I think he's in a great place."
Evan Peaslee is an associate reporter for MLB.com. This story was not subject to the approval of Major League Baseball or its clubs.