McGowan determined to relearn his craft
McGowan determined to relearn his craft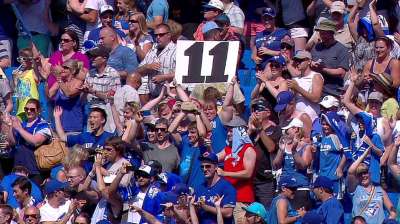 TORONTO -- The trials and tribulations of Dustin McGowan's Major League career are well known by Blue Jays fans -- glimpses of immense talent overshadowed by long-lasting injuries.
Now 31 and finally healthy for an extended period since 2008, the hard-throwing righty must relearn what made him successful in the past.
"At this point, I need to pitch more just to get that feel again," McGowan said. "The more you do it, the more it comes back to you. I didn't do it for such a long time, that it was like starting all over again.
"Each time you go out there, you get more and more comfortable. You get used to game situations, and that's all part of the game. You want to be comfortable when you go out there, obviously."
Last Sunday, McGowan found himself in a tight ballgame for the first time this season, and he flourished. With the club down a run, McGowan entered the game in the seventh inning in a pivotal matchup vs. the AL East-leading Red Sox, and he held them to a single hit over two innings with two strikeouts.
He followed that up by striking out the heart of the Tigers' lineup in order on Wednesday.
"He's going to start pitching in some more vital innings," manager John Gibbons said. "I think he's earned that right"
For a man who once took a no-hitter into the ninth inning vs. the Rockies in 2007 and has logged over 1,000 innings since turning pro in 2000, having to relearn a craft is a daunting task. It also speaks volumes of the time that McGowan has spent away from the diamond since the injury bug hit him hard five years ago.
In 2008, McGowan was forced to undergo the first of a series of shoulder surgeries -- this one to repair fraying in the labrum of his throwing shoulder. More surgeries followed, and other than a brief stint in late 2011, the right-hander has been away from the game that he loves.
Despite the hardships of what was essentially a five-year stint of rehab and surgeries, the stubborn Savannah, Ga., native refused to give up.
"There's no quit in me," McGowan said.
Although he admits that family and other factors played a role in his decision to keep pursuing his Major League dream, it was the game that he didn't want to let go.
"Never want to give up on something I love to do," McGowan said. "It's been my life since I've been growing up. [It] has been baseball. It's what I've known. It's what I wanted to do."
Now, after all his setbacks, he gets a chance to focus on pitching.
"The most important thing is just me getting back out there and pitching, learning the hitters again and learning myself and what it takes to succeed again," McGowan said. "There's always work to be done.
"This game right here is a game you'll never figure out. Just when you think you've got it figured out, it'll come back and bite you in the butt. So there's always work to be done. I want to learn. I want to learn every time I go out. I want to work on something. The only way to do it is by pitching."
Evan Peaslee is an associate reporter for MLB.com. This story was not subject to the approval of Major League Baseball or its clubs.