Club comes to terms with second-rounder Hollon
Club comes to terms with second-rounder Hollon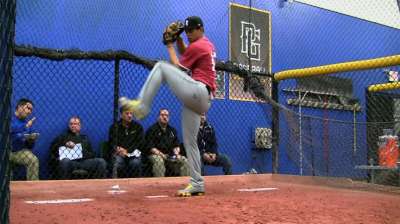 TORONTO -- Just a few days after Blue Jays general manager Alex Anthopoulos said there was progress in trying to sign the club's top two picks in the 2013 First-Year Player Draft, Toronto came to terms with second-round selection Clinton Hollon on Saturday.
Hollon, a right-handed pitcher, was selected 47th overall out of Woodford County High School in Kentucky.
The 18-year-old posted a 9-1 record with a 0.61 ERA and 87 strikeouts in 57 innings in his senior year.
Hollon dealt with right forearm tendinitis this season, although it didn't affect the velocity he can generate as the 6-foot-1 195-pounder can reach the mid-90s on his fastball. However, it did play a role in where he fell to in the Draft and in the contract that he signed.
The club has not released the amount he signed for, but it is believed to be in the range of $467,200, according to Baseball America.
With the signing, the Blue Jays have come to terms with 23 players from this year's Draft.
Evan Peaslee is an associate reporter for MLB.com. Follow him on Twitter at @EvanPeaslee. This story was not subject to the approval of Major League Baseball or its clubs.