Bautista eager to share All-Star recognition
Bautista eager to share All-Star recognition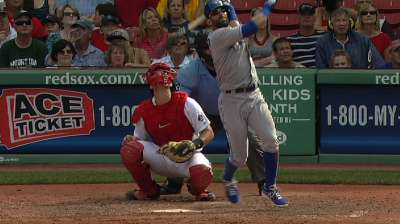 TORONTO -- Edwin Encarnacion on Saturday was named to his first All-Star Game, and at least one teammate could not be happier.
"It's awesome," said Jose Bautista, who has long been a supporter of Encarnacion's. "Just the fact that he's being recognized finally and awarded the chance to play in the All-Star Game is huge."
Encarnacion's 23 home runs and 66 RBIs through Saturday led the Blue Jays this season, to go along with a .266 average and .351 OBP.
In fact, it was the Toronto slugger who did much of the heavy lifting last year when Bautista was out with a season-ending injury, finishing the year fourth in the Majors with 42 home runs.
"What he's done for this team in the last two years is unbelievable, and it's about time [he is recognized as an All-Star]," Bautista said.
The two are the bash brothers of Toronto, having led the team in home runs the last three seasons, including being the second-best duo in the league with 43 home runs combined in 2013. Entering Sunday, they trailed only the combined 48 of the Orioles' Chris Davis (33) and J.J. Hardy (15).
As a result, both Blue Jays are candidates for the Chevrolet Home Run Derby this season, sitting third and seventh in the American League in home runs.
The contest is no stranger to Bautista, now a four-time All-Star who has participated the last two seasons, but would be a first for Encarnacion. However, a recent injury may keep Encarnacion away from the Derby even if he is asked.
"Right now, with the problem I have in my hamstrings, I don't feel like [I could]," said Encarnacion, who missed three games last week with the same issue.
Bautista, on the other hand, would not mind attempting the Derby for a third time after last season's second-place finish to Prince Fielder.
"If I get that phone call, I'll definitely entertain that," Bautista said.
Either way, the Midsummer Classic is finally an accomplishment Encarnacion can check off the to-do list in his ninth professional season.
"At the beginning [of my career] I was always thinking about the All-Star Game, playing in the playoffs, playing in the World Series," Encarnacion said. "Now, here it is, my first All-Star Game, and the next goal is to make it to the playoffs."
Evan Peaslee is an associate reporter for MLB.com. Follow him on Twitter at @EvanPeaslee. This story was not subject to the approval of Major League Baseball or its clubs.