Delabar was mid-flight when he won Final Vote
Delabar was mid-flight when he won Final Vote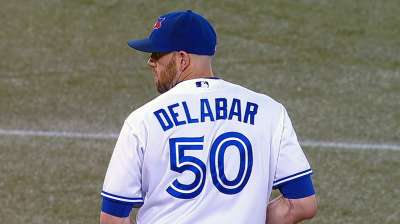 BALTIMORE -- By now, the news is out that reliever Steve Delabar is headed to the All-Star Game after coming out on top in the American League Final Vote. But Delabar, surprisingly, wasn't one of the first to know.
Where was he when the news broke?
"We were in the air. Right as we were taking off, the Twitter feed or whatever said the polls were closed and then we took off," Delabar said.
So he had no idea if he'd been selected until the team landed.
"When we landed, phone comes on, it just starts pouring in," Delabar said. "And then I go on Twitter, and it was just blowing up [with] 'Congratulations! We're so proud of you!'
"I kind of had a feeling, because I had the lead for the whole time," he said. "I had a good feeling about it, and then we landed and all those things popped up and I was like, 'This really did happen.'"
After answering the congratulatory texts and doing a couple radio interviews, Delabar said the first person he called was his dad. Both his parents, Steve and Debbe, will be at Citi Field to cheer on their son, Delabar said.
On Wednesday, he'll turn 30, and there was apparently a big birthday party planned.
"Apparently I'm going to miss that. A lot of my family members are going to be there for it, so I think that'll be plenty good," Delabar said.
Delabar's appearance at the All-Star Game will cap his incredible journey to the Major Leagues. Three years ago, he was working as a substitute teacher and coaching baseball at a local high school before he received an opportunity to work out for the Mariners, which started his ascent to the Major Leagues. And now he's an All-Star, having received a total of 9.6 million votes in the Final Vote competition.
"It has been a kind of long and winding road, but everything happens for a reason, and I'm here now and I'm just excited to be a part of it," Delabar said.
Derek Wetmore is an associate reporter for MLB.com.. This story was not subject to the approval of Major League Baseball or its clubs.