Kawasaki sent back to Triple-A Buffalo
Kawasaki sent back to Triple-A Buffalo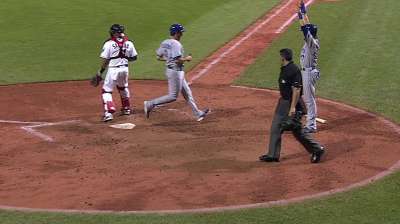 BALTIMORE -- Fan favorite Munenori Kawasaki was optioned to Triple-A Buffalo on Saturday to make room for Brett Lawrie's activation from the disabled list.
Blue Jays manager John Gibbons said it wasn't an easy decision.
"Just like last time, tough to send him down. He had options," Gibbons said, explaining the rationale of the move. "Like I said last time, he'll be back sometime. He was gone two days last time, so you never know. But he did a tremendous job for us last time, he really did. It's a big loss."
Lawrie will play second base for the Blue Jays, and they'll continue to carry just a three-man bench to allow for an eight-man bullpen, so Kawasaki became expendable. In 216 plate appearances, Kawasaki has hit .213/.319./298 with 20 RBIs and seven stolen bases in eight attempts.
Kawasaki joked to a reporter that he may play outfield in the Minors to increase his versatility and his value to the team.
"We didn't say anything about that, but it wouldn't surprise me," Gibbons said with a smirk. "He plays to win. He loves the game of baseball."
Derek Wetmore is an associate reporter for MLB.com. This story was not subject to the approval of Major League Baseball or its clubs.