Lawrie to jockey between second and third
Lawrie to jockey between second and third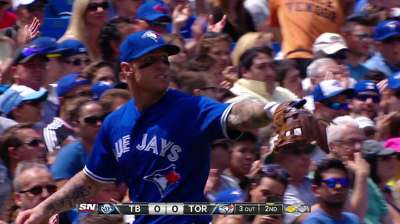 TORONTO -- The Blue Jays seem relatively content with infielder Brett Lawrie bouncing back and forth between second base and third for at least the foreseeable future.
Lawrie began taking ground balls at second during his recent rehab assignment in the Minor Leagues and at the time the general consensus seemed to be that the club would pick a position and stick with it for an extended period of time.
That isn't the path the Blue Jays have decided to take, though, and it seems very possible that Lawrie will see time at both positions with his spot being dictated by who else is in the lineup.
"Over time we're just going to take a look at that," Blue Jays manager John Gibbons said. "We're just going to play him at both spots, see how it goes."
Lawrie was in the lineup on Monday night against the Dodgers at second base and has now started five of his past six games at the position. It would seem probable that the bulk of his work will come up the middle, but Maicer Izturis and Emilio Bonifacio will continue to see time at second as well.
The 23-year-old Lawrie came up through the Brewers' system at second base but transitioned to third after being acquired by Toronto at the 2010 Winter Meetings. It remains to be seen whether Lawrie can handle second, but he does have plenty of athleticism and range, which could bode well for his opportunity.
There have been some growing pains along the way, though, as evidenced by a throwing error by Lawrie during Saturday afternoon's game against the Rays. He was put at third the following day, but Gibbons said the decision didn't have anything to do with the miscue.
For now, the work with infield instructor Luis Rivera continues as the Blue Jays continue to monitor his progress and whether second could become Lawrie's permanent home.
"There's different ways to handle the pivot and Luis can throw different things at him, see what he's most comfortable with," Gibbons said of the extra work.
"A lot of that depends on their athleticism and quickness ... most of them do it different. They'll experiment a little bit."
Gregor Chisholm is a reporter for MLB.com. Read his blog, North of the Border, and follow him on Twitter @gregorMLB. This story was not subject to the approval of Major League Baseball or its clubs.