Perez's scoreless-innings streak ends at 22 1/3
Perez's scoreless-innings streak ends at 22 1/3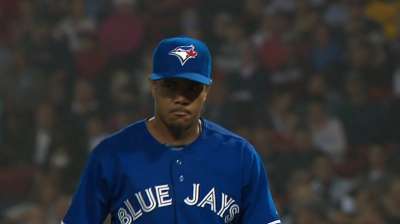 TORONTO -- In Tuesday's disappointing 10-9 loss to the Dodgers, reliever Juan Perez became engrained in Blue Jays history.
After tossing a scoreless ninth inning, Perez broke a 35-year-old club record for most consecutive innings without allowing an earned run to begin his Blue Jays career.
The left-hander had thrown 22 straight scoreless innings heading into Wednesday's contest, surpassing the previous mark of 21 1/3 innings set by Victor Cruz between June 24-July 31, 1978.
"He's done a great job for us," general manager Alex Anthopoulos said.
However, that streak ended in Wednesday's 10-inning, 8-3 loss to the Dodgers. Perez entered a 3-3 game in the 10th, and after striking out Skip Schumaker to extend the record to 22 1/3 innings, he proceeded to allow five earned runs, including home runs off the bats of Mark Ellis and Yasiel Puig.
"Sooner or later he was going to give up some runs," manager John Gibbons said. "He made a mistake in the middle of the plate and the ball went a long way. That's what normally happens to everybody."
Although Anthopoulos had no expectations that the veteran lefty would maintain a 0.00 ERA throughout the season -- which jumped to 1.96 after the loss -- Perez's performance prior to the blowout earned high praise from the club's general manager.
"Juan Perez, right now, he's not going anywhere. He's been too good for us," Anthopoulos said.
Perez is out of Minor League options, so a move to bring up Sergio Santos, or any of the cavalry of arms returning to health in the system, would mean exposing Perez to waivers, something that Blue Jays are unlikely to do.
Sooner or later, a decision will need to be made on Santos, whose rehab period ends on Aug. 2, but it's a position that the general manager actually likes to be in.
"I love to be in that position, that all of our players are playing so well that you have too many good players [in the big leagues]," Anthopoulos said.
Evan Peaslee is an associate reporter for MLB.com. Follow him on Twitter at @EvanPeaslee. This story was not subject to the approval of Major League Baseball or its clubs.