After moving between positions, Lawrie to stay at third
After moving between positions, Lawrie to stay at third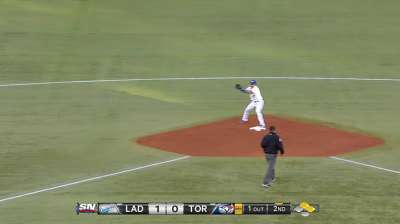 TORONTO -- The bizarre experiment of moving Brett Lawrie back and forth between second and third base has finally come to an end.
Blue Jays manager John Gibbons said on Thursday afternoon that Lawrie's extended look at second base is over for now, and he will assume a regular spot at third.
The move comes after eight games of uncertainty about where Lawrie would fit into the Blue Jays' lineup. He received six starts at second and two at third base, as Toronto attempted to increase its roster flexibility and evaluate its options moving forward.
"I talked to him today, and he said he's fine anywhere," manager John Gibbons said. "'I'll play anywhere, wherever the team needs.' That was his answer. We don't want to get in the habit of moving you around, but it might help your flexibility down the road. He said, 'whatever you want to do.'"
The decision to keep Lawrie at third base doesn't mean that the Blue Jays have completely abandoned the idea of moving him in the future. The line of thinking is that Toronto is at least relatively comfortable with his work at second base, and a full workload during Spring Training would help ease a transition.
But there was some downside to Lawrie making that transition during the middle of the season. Currently, he's a better defender at third than second, and the Blue Jays don't have internal candidates that would justify a full-time move.
That could change during the offseason, when general manager Alex Anthopoulos attempts to upgrade his roster. Anthopoulos will have plenty of options at his disposal, but for now, the Blue Jays will leave Lawrie where he feels most comfortable and give him an opportunity to put more focus on his work at the plate.
That came as welcome news to Lawrie, who said he doesn't care what position he plays but would prefer to stick with one spot as opposed to moving back and forth.
"I feel fine over there at second base. It's not a question of whether I'm uncomfortable," Lawrie said. "I'm not uncomfortable over there at all. It's about getting reps and being able to go over there and consistently play.
"I've never been a utility guy. I've never bounced around from here, to here, to here and back. So if I get a chance to play in a spot that I'm good at, I'd like to play that spot. If it helps the team out, that's what I'm here to do."
Gregor Chisholm is a reporter for MLB.com. Read his blog, North of the Border, and follow him on Twitter @gregorMLB. This story was not subject to the approval of Major League Baseball or its clubs.