Rasmus raking in July
Rasmus raking in July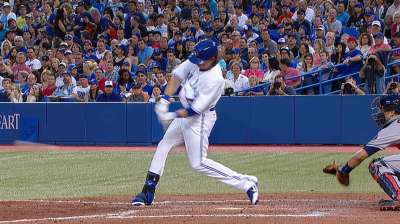 TORONTO -- Although Jose Bautista, and Edwin Encarnacion are the Blue Jays' biggest sluggers, it's Colby Rasmus who's swinging the club's hottest bat.
Rasmus was hitting .389 in his last 10 games, entering Friday, and a team-best .352 in July with two home runs, 11 RBIs and 11 runs.
"Talking to him, watching what he's doing out there, you can tell he's feeling good right now," manager John Gibbons said. "Just from seeing him every day, he doesn't say a whole lot, just goes about his business."
The 26-year-old center fielder has also been one of the best defensive players, leading the team with a 1.2 defensive WAR, and he's been one of the American League's best hitters at his position.
Rasmus ranks second among AL center fielders with 16 home runs and 49 RBIs (behind Baltimore's Adam Jones), and third in OPS. (.810). He also has a hit in 13 of his last 15 games, including a nine-game hitting streak that he extended with a second-inning single on Friday. He added an RBI double in the fifth and finished 4-for-5 -- his first four-hit game since May 31.
"You guys know what kind of talent he has, I mean, he can do everything," Gibbons said.
Although his starting center fielder is generally considered a streaky player, Gibbons believes those dramatic swings are far less severe this year.
"He's like anybody else, he goes through his ups and downs," Gibbons said. "In the past he's been really streaky, hot and cold. I think that's kind of tapered off a little bit, he's a little bit more consistent."
The numbers would agree with the skipper's sentiments.
Rasmus has avoided those prolonged slumps that plagued him in 2012. His season high is three games without a hit, while last year it was six, which was part of a stretch of only three hits in 14 games.
"I think he's starting to settle in who he is," Gibbons said. "He's got enough years under his belt now. He's starting to understand that a little bit."
Evan Peaslee is an associate reporter for MLB.com. This story was not subject to the approval of Major League Baseball or its clubs.