Homers continuing to fly out of Rogers Centre
Homers continuing to fly out of Rogers Centre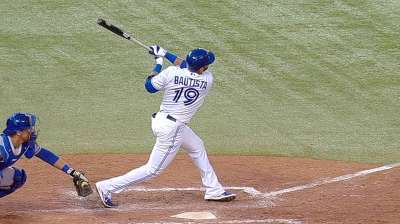 TORONTO -- Maybe it's the breeze coming off of Lake Ontario.
Rogers Centre has always been considered a hitters' ballpark, but this year it ranks among the best in all of baseball.
"It's always been a good hitter's park, but it seems like this year it's really taken off," said manager John Gibbons, who is well acquainted with the building -- having coached parts of eight seasons at the 25-year-old stadium.
In Friday's 12-6 smashfest with the Astros, the Blue Jays hit five home runs for the third time this season -- with Houston chipping in with one of its own -- adding to the ballpark's Major League-leading home run count.
Through 55 games -- including Saturday's 8-6 loss to Houston -- there have been 165 home runs hit at the Rogers Centre, an average of three per game. American League East foe Baltimore sits second, with Camden Yards seeing 142 homers in 50 games.
When compared with the Pirates, Marlins and Cardinals, who have had 62, 60, and 65 home runs, respectively, hit in their home ballparks, and it's a drastic difference.
"We haven't always pitched great, we might be contributing a little bit to that," Gibbons rationalized. "I don't know if it's all atmosphere."
Deciding what determines how home run friendly a ballpark is can be a daunting task. The types of sluggers you have and how strong your pitching is, among other variables, can make all the difference.
The Blue Jays have been known for their power, with Jose Bautista and Edwin Encarnacion ranking second in the Majors in home runs as a duo, trailing only Baltimore's Adam Jones and Chris Davis.
ESPN tries to differentiate that with their MLB park factors by taking into account the difference between home runs -- both for and against -- at home and on the road.
Rogers Centre ranks second only to Philadelphia's Citizens Bank Park in 2013, a colossal upgrade from last season's middle-of-the-pack ranking of 15.
Part of that is evidenced simply by taking a look at R.A. Dickey's home/road splits. Dickey has given up 18 home runs at home in 12 starts, versus six on the road in 10 outings.
"You guys have seen this all year, the ball is flying here. That's not always good for a knuckleballer," Gibbons said. "It's never good for anybody, but they do get a lot of fly balls."
Oddly enough, the knuckleballer's home/road splits aren't drastically different outside of the home runs. Opponents are hitting .258 against him at home, and .236 on the road. However, his ground ball-to-fly ball-out ratio is actually much higher on the road. Dickey has averaged one groundout to every flyout at home, while averaging three ground outs to every four air outs on the road.
"I feel like I've given up some wall scrapers this year, that's for sure," Dickey said of his home park. "I guess the good news is both pitchers have to pitch in this park. I'm not the only one."
Whatever it is -- whether it's the lake, the stadium, the dimensions, or the team -- there's one thing that Gibbons knows for sure.
"It's a good place to hit," said Gibbons.
Evan Peaslee is an associate reporter for MLB.com. This story was not subject to the approval of Major League Baseball or its clubs.