Gibbons says Johnson dealing with knee injury
Gibbons says Johnson dealing with knee injury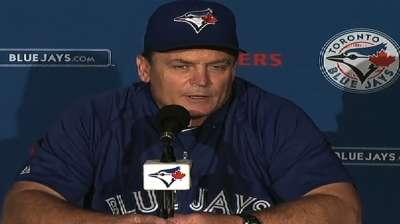 OAKLAND -- Blue Jays manager John Gibbons revealed on Tuesday afternoon that right-hander Josh Johnson has been dealing with a minor knee injury this season.
Johnson apparently has tendinitis in his left knee, but it's not an injury that has been bad enough to warrant a trip to the 15-day disabled list or require an extended period of time off.
The injury came to light when Gibbons was asked about Johnson's struggles this season, but it doesn't appear to be a major cause of concern for the organization.
"He's not tipping pitches at least that you can see," Gibbons said. "He's had some knee issues, his landing leg.
"He gets a little tendinitis, nothing major that you can't perform, but when you land on it if you get that little stinger. We're trying to figure [out why he's struggling] too."
The vast majority of Johnson's problems this season have come when he is pitching out of the stretch. He has allowed the opposition to hit .380 with a .441 on-base percentage with runners on compared to a .225 average and .281 OBP with the bases empty.
A lot of the issues have been related to poor command. Johnson either has a tendency to nibble around the zone and miss the plate while also throwing a high number of pitches or get way too much of the strike zone while leaving the ball up in the zone.
The club has attempted to experiment with a number of different techniques to solve the problems, but so far nothing has really worked on a consistent basis and it has resulted in Johnson having a 6.08 ERA in 14 starts this season.
"They've tinkered with trying to move him to the first-base side of the rubber to make it a little bit easier to get to that part of the plate consistently," Gibbons said. "We need him to start winning some games."
Gregor Chisholm is a reporter for MLB.com. Read his blog, North of the Border, and follow him on Twitter @gregorMLB. This story was not subject to the approval of Major League Baseball or its clubs.