Johnson not blaming sore knee for struggles
Johnson not blaming sore knee for struggles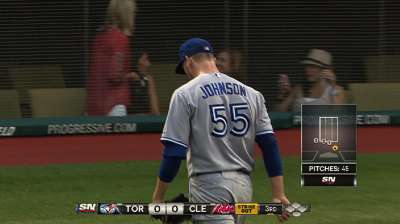 ANAHEIM -- Blue Jays starter Josh Johnson downplayed the severity of a left knee injury on Saturday afternoon and said he doesn't feel like it has been a factor in his struggles on the mound.
Manager John Gibbons revealed early last week that Johnson has been dealing with tendinitis in his knee, and starting catcher J.P. Arencibia echoed those concerns on Friday.
Johnson admitted that the knee has bothered him at times this year but was adamant that it's something that he has always dealt with in his entire career and was not something he wanted to use as an excuse for his poor performance.
"I mean, I've had it since I was 11 years old, so it's nothing new," Johnson said. "Sometimes it'll be sore but actually, it feels as best as it has all year.
"Sometimes it'll come, sometimes it'll go, and probably about 90 to 95 percent of the time it's not an issue, but then sometimes it'll flare up and be sore. But I really haven't had a bad episode with it so far."
Johnson threw a bullpen session on Saturday morning and remains on schedule to make his next start Tuesday against the Mariners. That's when he'll attempt to reverse his recent fortunes, which have seen the former National League ERA leader post an 0-6 record with a 9.48 ERA since June 28.
To Johnson's credit, he has yet to shy away from the media despite his recent struggles. He has talked about his problems after each outing and hasn't backed away from the criticism in what was supposed to be a banner season for the soon-to-be free agent.
"Not while I'm out there," Johnson said when asked if it has been difficult to battle through start after start. "Once I'm out of the game, or in between innings, you get pretty frustrated, but you've just got to push all that aside and find ways to get outs. It's been a really tough go at it, but today's bullpen, I think, was a huge step."
Johnson added that the main goal of his bullpen was to keep the fastball down in the zone. He recently moved to the first-base side of the rubber in an attempt to improve his command to the outer half of the plate against right-handers.
A lot of the bullpen session also was spent on Johnson's curveball, which has been a major weapon in the past but ineffective this year. He continues to search for answers, but using injuries as an excuse isn't one of them.
"I'd rather have something hurt and throw the ball better instead of feeling good and throwing the ball like this," Johnson said. "I don't know, maybe I need to hurt my toe or something, break my own toe or something, and get on the right track."
Gregor Chisholm is a reporter for MLB.com. Read his blog, North of the Border, and follow him on Twitter @gregorMLB. This story was not subject to the approval of Major League Baseball or its clubs.