Inbox: Could Romero return in September?
Inbox: Could Romero return in September?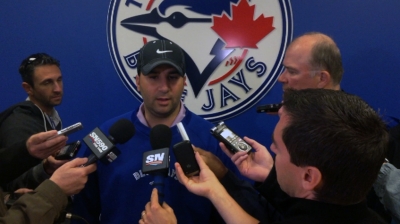 What is the plan for Ricky Romero? Alex Anthopoulos mentioned several pitchers who could be candidates for a promotion this season, but Romero's name was conspicuously absent. Does this mean he doesn't fit into their future plans?
-- Robert M., Saskatoon, Saskatchewan
Romero should be back with the Blue Jays at some point this season, but a promotion likely won't happen until the rosters can be expanded to 40 players on Sept. 1. Romero has shown flashes of his former self at Triple-A Buffalo, but the former ace still lacks the overall consistency the Blue Jays are looking for from him.
The 28-year-old southpaw allowed three runs or fewer in all but one of his July starts with the Bisons. The problem is that in his one poor outing, a lack of command returned and Romero issued five walks while allowing five runs in only one inning. Those problems resurfaced on Tuesday, when he allowed seven runs in 3 2/3 innings.
The Blue Jays didn't want to bring Romero back when there was still a possibility for a breakdown on the mound. The club already used an option on his contract this season, and Toronto will get full use out of that by not bringing him back until it absolutely must. That should occur in September, but whether Romero gets another shot at starting this season still remains very much up in the air. It's possible he will be used out of the bullpen upon his return, with another shot at competing for a starting job next spring.
When will the Blue Jays finally give Marcus Stroman a shot in the big leagues? With the rotation struggling, it would seem like a perfect opportunity to see what they have.
-- Michael K., Barrie, Ontario
Stroman, Toronto's No. 3 prospect and No. 97 overall prospect, has been borderline dominant for Double-A New Hampshire this season. He has struck out 99 batters in just 63 innings while posting an impressive 2.93 ERA for the Fisher Cats. By all accounts, he is a very mature pitcher on the mound and is ready for the big leagues, but his future role with the organization is still up in the air.
When the Duke University product was selected in the first round of the 2012 First-Year Player Draft, Stroman was projected to develop into a late-inning reliever. He's ready for a bullpen job now, but the Blue Jays have held him back in the Minor Leagues to evaluate how he performs as a starter. He possesses an overpowering fastball, but still needs to refine his secondary pitches in order to have success against big league hitters.
This season would seem like the perfect opportunity to give Stroman a test run as a Major League starter. Right-hander Esmil Rogers has already thrown more innings this year than he did all of last season and appears to have hit a wall. A smart move would be moving Rogers back into the bullpen for the remainder of the year, which would then open up a spot in the rotation for either Stroman or left-handed prospect Sean Nolin.
Have a question about the Blue Jays?
E-mail your query to MLB.com Blue Jays beat reporter Gregor Chisholm for possible inclusion in a future Inbox column. Letters may be edited for brevity, length and/or content.
Who are some of the Blue Jays prospects that will get a look in Toronto before the end of the year?
-- Amanda B., Ottawa, Ontario
Stroman and Nolin (No. 5 prospect) are at the top of that list, but it's also possible that outfielder Kevin Pillar (No. 16) will get a shot. Pillar arguably is the biggest success story from the Blue Jays' Minor League system this season, and even though he wasn't taken until the 32nd round of the 2011 Draft, he is beginning to carve out a future with the organization.
Pillar is hitting .299 with four homers and 20 RBIs in 44 games for the Bisons this season. He doesn't strike out a lot and has hit for average at every level, but there are still questions about his ceiling as a player. Pillar has always projected as a backup in the big leagues, but he's exceeded expectations in the Minors, and if that continues, it's possible he could secure a bigger role than expected.
The only way Pillar would get a realistic shot at regular playing time with the Blue Jays this season is if outfielder Melky Cabrera misses a significant period of time with his left knee injury. If Cabrera gets shut down for the season, then it's possible Pillar will get an extended look in September. Until then, Rajai Davis and Emilio Bonifacio will continue to split time in left.
Rajai Davis has been a very valuable player -- and in my opinion underutilized -- during his time in Toronto. Will he be back next year?
-- Neil S., Guelph, Ontario
Davis is a very valuable asset when he is used in an appropriate fashion. His lifetime average of .297 against left-handers makes him an ideal candidate for a platoon, while also being able to make an impact as a pinch-hitter and late-game pinch-runner. The problem is that when Davis received playing time on an everyday basis, his performance slipped, with the main reason being a .257 average and a .649 OPS against right-handed pitching.
The Blue Jays would love to keep Davis in the fold next season, but he might be a luxury they can no longer afford. The veteran outfielder is making $2.5 million this season and is set to become a free agent at the end of the year. The Blue Jays could certainly afford Davis, but it's possible the money he would be looking for will be reallocated to upgrades at other positions.
Toronto would then use Bonifacio in a super-utility role next season. Bonifacio, who can play both the outfield and infield, would be a threat to run off the bench, but isn't the best option to use in a platoon as evidenced by his career .647 OPS against lefties.
Moving Brett Lawrie to second base seemed like a big mistake to me. Can we finally say that experiment is done with and that he will remain at third base for years to come?
-- John B., Buffalo, N.Y.
Lawrie's brief stint at second base is over, and it appears unlikely that he will return there next year. The organization saw enough from Lawrie in his six games at the position this season to know he can handle it, but he is far more valuable at third, where he has become one of the top defenders in the Majors.
General manager Alex Anthopoulos recently stated that it appears as though it will be easier to add a second baseman this offseason than a third baseman. There were more middle infielders on the market prior to the non-waiver Trade Deadline, and his preliminary discussions with other organizations are expected to heat up again in the fall.
Toronto's plan, of course, could still change. If a top third baseman becomes available at the right price, the Blue Jays could opt to move Lawrie across the diamond, but that's not currently the main focus. Even though Lawrie splitting time at both positions became a needless distraction for the club, it did increase the number of options available to Anthopoulos this offseason, and that can only be viewed as a good thing.
With the Blue Jays failing to live up to expectations this year, when will John Gibbons finally take the fall? It seems like the Blue Jays could use a new voice inside that clubhouse.
-- Grant S., Edmonton, Alberta
The Blue Jays' fanbase has been incredibly harsh in its criticism of Gibbons this season, but regardless of what the rampant speculation might suggest, it does not appear that his job is in jeopardy. Gibbons and Anthopoulos have a very close relationship, and Anthopoulos went out on a limb last offseason when he plucked the veteran manager from Double-A San Antonio.
I think it's safe to say that Anthopoulos learned a lot from his working relationship with former Blue Jays and current Red Sox manager John Farrell. Anthopoulos and Farrell never appeared to be on the same page, and they seemed to have a very different outlook on how the organization should be run from top to bottom. Gibbons, meanwhile, doesn't concern himself with the role of the front office and instead solely focuses on the 25 players in uniform.
To lay all of the blame at Gibbons' feet this season would be giving a free pass to players who have underperformed. The role of a manager can be most felt in how he utilizes a bullpen, and that's the one area of Toronto's roster that has exceeded expectations. The biggest disappointment has been the rotation, and there's little a manager can do to solve that problem. One frequent criticism from the fans is that Gibbons leaves his starters in for too long, but upon further review, Toronto's bullpen has thrown more innings than any other group in baseball, so that notion should be quickly dismissed.
When will the Blue Jays pull the plug on Josh Johnson? He has been a big disappointment this year and I think it's time to go in another direction. Will he be sent to the Minors or traded to another team?
-- Neil S., Guelph, Ontario
Johnson was essentially pitching for his job on Tuesday night, but after tossing five shutout innings against the Mariners, he should be safe for now. That will buy Johnson at least a couple of more outings, and it was finally a positive step for a pitcher who entered that game with an ERA above 9.00 over his previous seven outings.
It will be a long road back to respectability, but there is still enough time remaining in the season for Johnson to reestablish at least some of his previous value. The pending free agent won't receive any of the lucrative multiyear offers he was originally expecting, but with a strong final two months, an enticing one-year deal is still realistic.
The only way that can happen, though, is if Johnson improves his command and begins to use his offspeed pitches more effectively. Toronto could still opt to extend a qualifying offer to Johnson at the end of the season, but it would cost upwards of $14 million on a one-year deal, and the performance will need to drastically improve in a hurry for that to become a remote possibility.
Gregor Chisholm is a reporter for MLB.com. Read his blog, North of the Border, and follow him on Twitter @gregorMLB. This story was not subject to the approval of Major League Baseball or its clubs.