Pillar, 32nd-round pick in '11, called up to Majors
Pillar, 32nd-round pick in '11, called up to Majors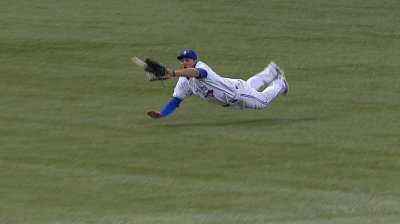 TORONTO -- To say that Kevin Pillar's rise to the Majors is a surprise would probably be an understatement, considering where he's come from just two years ago.
Despite a successful career at California State University, Dominguez Hills that made him an All-American and included a Division II record 54-game hitting streak, Pillar was a 32nd-round pick (979th overall) in the 2011 First-Year Player Draft.
On Wednesday, the West Hills, Calif., native was called up to replace Colby Rasmus, who was placed on the 15-day DL with an injured left oblique, becoming the first player selected by the Blue Jays in 2011 to make the big leagues.
But it was the lack of attention he received at the Draft that Pillar -- ranked No. 16 among Blue Jays prospects by MLB.com -- used as motivation to help make this step.
"There's definitely a chip on my shoulder to prove that they may have got it wrong at the Draft," Pillar said. "That the system may not be perfect. That there's an imperfection to the Draft system the way that scouts evaluate players, the way they may discredit things that guys do in smaller schools.
"Going in [to the Minors], naturally, I was already a little upset. I carried that chip on my shoulder. Early on I wasn't really given anything. I had to earn playing time. I had to earn the respect of my teammates, my coaching staff. I just kind of played the style I was taught at Dominguez Hills. Play hard, do the little things right, be a good team player. That allowed me to get a little more opportunity."
When he was given that opportunity, the 24-year-old outfielder had no trouble making an impact.
From Rookie League to Triple-A, Pillar made people notice him with his bat. In five Minor League levels, he hit .299 or better, batting a combined .321 with a .366 on-base percentage, 22 home runs, 185 RBIs, 183 runs scored, .832 OPS, and 82 stolen bases over 311 games.
"I just learned, even in college, to take every at-bat very personal," Pillar said. "[It's] a battle between you and the pitcher, and I hate losing."
Although he started in left field Wednesday against the Red Sox, Pillar has the ability to play all three outfield spots and is considered a "legit center option" by Blue Jays general manager Alex Anthopoulos.
Whether he gets much time up the middle is to be determined, but Anthopoulos now knows that they made a mistake in letting Pillar slide so far down in the Draft.
"Some guys get better as well, but it could be that he's not 6-foot-5 and things like that, I think sometimes that's how sometimes guys slip through the cracks," Anthopoulos said. "He was a college player and maybe scouts don't dream on those guys as much. But perhaps we lost sight of the fact that these guys are very sound good players. The fact that he has performed at the level he has at the Minor League level, he certainly has earned being up here.
"Clearly I could say, and I say that respectfully, we got him wrong. Just because if he has a chance to get to the big leagues you don't wait for the [32nd] round to select him."
Gregor Chisholm is a reporter for MLB.com. Read his blog, North of the Border, and follow him on Twitter @gregorMLB. Evan Peaslee is an associate reporter for MLB.com. Follow him on Twitter at @EvanPeaslee. This story was not subject to the approval of Major League Baseball or its clubs.