Delabar progressing, but no timeline set
Delabar progressing, but no timeline set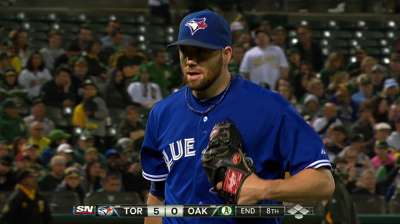 ST. PETERSBURG -- Right-hander Steve Delabar played catch Friday, the first time he's done so since going on the disabled list, but he said there is no set timeline for his return to the Blue Jays' bullpen.
Delabar has been sidelined for two weeks due to inflammation in his right shoulder, though he clarified Friday it's closer to his biceps after dealing with lingering pain since mid-July. Delabar was one of baseball's best setup men in the first half, going 5-2 with a 2.90 ERA in 49 2/3 innings, but admitted he "wasn't feeling amazing" when he pitched in the All-Star Game and acknowledged that there was "a little discomfort" even since then.
Yet he was still able to pitch -- and do so effectively, for the most part -- so he didn't think it was serious enough to stop playing.
"I was competing and getting guys out, so from my side it was like, how am I going to say I'm not feeling good if things are all working? I'm still getting most of the guys out and competing and being able to get myself ready, so I was able to work through the soreness that I had," Delabar said Friday at Tropicana Field. "It just continued, with the work that we were getting and the progression that we were having. I couldn't get it out of there."
He pointed out that the pain would subside when he'd take several consecutive days off, but it became difficult to warm up and get loose. So finally, after giving up three runs against the Angels on Aug. 2, he mentioned to head trainer George Poulis that he wasn't 100 percent healthy.
Delabar said there had been no talk about shutting him down for the rest of the season -- "I haven't heard that at all," he said -- and while there is no estimate for his return, he is eager to come back.
"It gets at me, but I know that right now is the best time, the best thing to do is rest right now, get it back to where it needs to be and hopefully get up here as soon as possible," Delabar said.
Adam Berry is a reporter for MLB.com. Follow him on Twitter at @adamdberry. This story was not subject to the approval of Major League Baseball or its clubs.