Though not 100 percent, Reyes returns
Though not 100 percent, Reyes returns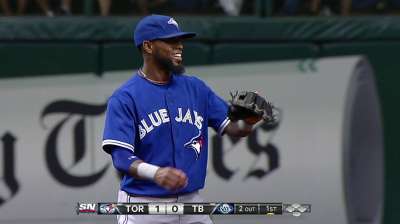 NEW YORK -- Following a brief two-game absence due to a sore right knee, shortstop Jose Reyes made his return to the Blue Jays' starting lineup in the opener of Tuesday's doubleheader against the Yankees.
Reyes was experiencing discomfort in the knee over the past week, but the pain ultimately reached a point where he needed a period of rest. Reyes sat out the Blue Jays' final two games against the Rays in St. Petersburg and received an extra day of rest on Monday, a scheduled off-day for Toronto.
Reyes started Tuesday's first game, but he was out of the starting lineup for the nightcap, resting in favor of Munenori Kawasaki. Even though Reyes has been cleared to play, the Blue Jays want to make sure they're cautious with their shortstop.
"It's good," Reyes said, late Tuesday morning. "I'm glad I took those two days off. It feels much better today. Hopefully, I'll be able to be good on the field.
"When I slow down running, it bothers me a little bit. Hopefully, I'll be fine today."
Reyes missed 2 1/2 months earlier this season due to a severely sprained left ankle. Even when he returned in late June, the ankle still wasn't fully healed, and Reyes dealt with a noticeable limp at various times during the ensuing weeks.
The 30-year-old Reyes conceded in St. Petersburg that his knee soreness could be related to overcompensating for his bad ankle. Reyes slightly backed off those statements when Toronto arrived in New York, but it's clear that he will have to deal with nagging injuries for the rest of the season.
Although occasional soreness appears to be unavoidable, the last thing Reyes wants to do is miss even more time on the field. He can handle the pain, but it will undoubtedly affect some parts of his game.
"With my ankle, it's tough for me to plant down and put some weight on that leg," Reyes said. "It is what it is. I know the ankle is going to be hurting until the offseason, when I get some rest.
"I want to finish the season healthy and see what happens next year."
Reyes entered play on Tuesday hitting .291 with nine homers and 29 RBIs in 56 games this season. He also has a .348 on-base percentage and has recorded 12 stolen bases in 16 attempts.
Gregor Chisholm is a reporter for MLB.com. Read his blog, North of the Border, and follow him on Twitter @gregorMLB. This story was not subject to the approval of Major League Baseball or its clubs.