Reyes ejected early after arguing strike call
Reyes ejected early after arguing strike call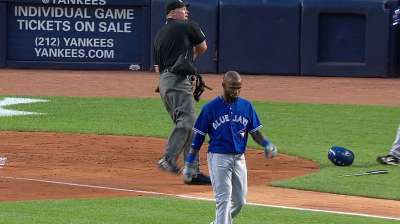 NEW YORK -- Blue Jays shortstop Jose Reyes was ejected during the second inning of Wednesday night's game against the Yankees for arguing a called third strike with home-plate umpire Ted Barrett.
Reyes was up in the count, 2-0, vs. right-hander Adam Warren when Barrett proceeded to call strikes on three consecutive pitches. The final pitch was in the bottom part of the zone, and Reyes was seen screaming, "That was down."
Barrett initially didn't react, but the two later appeared to exchange some words as the inning came to an end. Reyes then threw his batting gloves, but it wasn't until he tossed his helmet while walking away from the umpire that the four-time All-Star was thrown out of the game.
"I looked at it on the video, and I thought the strike three that he called was a ball," Reyes said. "But he's the umpire, he knows what he's doing back there. Maybe I overreacted, throwing my helmet down and stuff, I never do that."
Toronto manager John Gibbons immediately came out to argue but remained in the game following a lengthy chat with Barrett. The ejection was the 10th this season for the Blue Jays.
The ejection didn't exactly come at an ideal time, as the Blue Jays are currently without the services of infielder Maicer Izturis because of a sprained left ankle. Veteran Mark DeRosa entered the game to play second, while Munenori Kawasaki moved over to shortstop.
That left Toronto with just a two-man bench for the rest of Wednesday night's game. Outfielder Moises Sierra and catcher J.P. Arencibia were the only reserves left at Gibbons' disposal, but luckily for the club, it didn't have an impact on the game.
If there was one regret Reyes had from what took place on the field, it was that he left a team that was already short-handed down yet another player.
"After he threw me out, I said, 'We don't have many people,'" Reyes said. "But in the moment, that stuff happens so quick I don't even think about it."
Gregor Chisholm is a reporter for MLB.com. Read his blog, North of the Border, and follow him on Twitter @gregorMLB. This story was not subject to the approval of Major League Baseball or its clubs.