Delabar, McGowan show further improvement
Delabar, McGowan show further improvement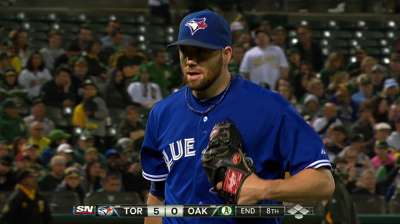 TORONTO -- With injuries seemingly mounting by the day, there is some notable progress by a pair of pitchers on the disabled list.
Both Steve Delabar and Dustin McGowan continue to improve and should see some game action in Florida sometime over the next few days.
Delabar pitched a side session on Monday and is scheduled to get into a game on Wednesday. Meanwhile, the oft-injured McGowan should get in a side session on Wednesday and pitch in a game on Friday.
But as has been the case for much of the season, for every step forward, there's a step back, and center fielder Colby Rasmus has experienced a minor setback as he recovers from a strained left oblique.
Rasmus was scheduled to begin baseball activities on Monday but was forced to restrain from doing so due to some lingering soreness.
He is still expected to return this season, but oblique injuries have a tendency to be tricky.
While some move forward and some move back, Josh Johnson remains status quo. The towering right-hander, who was placed on the 15-day DL on Aug. 7, visited Dr. James Andrews on Friday and was told by the noted surgeon to avoid throwing for a couple of weeks.
Evan Peaslee is an associate reporter for MLB.com. This story was not subject to the approval of Major League Baseball or its clubs.