Gibbons says taking heat comes with the job
Gibbons says taking heat comes with the job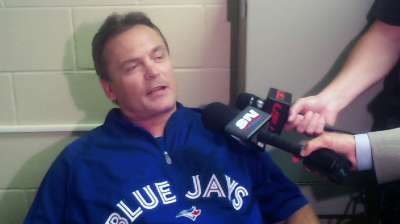 TORONTO -- Fairly or unfairly, manager John Gibbons has received more than his share of criticism for the way his club has performed this season.
With the team coming off a 2-8 road trip and on pace to finish the season with 90 losses, the heat has picked up considerably in the local media, but it's something that the two-time skipper just shrugs off and ignores.
"That goes with the business. Everyone gets fired in this business sooner or later," Gibbons said. "It's a tough business. It's a results-oriented business, and you live with that."
The 51-year-old Gibbons is more than accustomed to the pressures of managing in the Major Leagues, and he knows what it's like to be let go, having left his first stint in Toronto in that fashion midway through the 2008 season.
With a team that's drastically underperformed compared with preseason expectations, and for reasons generally out of his control -- including the second-worst starters ERA in the big leagues -- he's aware that people are looking to find blame, but he doesn't get into whether the criticism that finds itself on his shoulders is there justly.
"I don't get into what's fair and what's unfair. It's a tough business." he said. "You're in the arena, so it's open season. So have at it."
Still, that doesn't stop him for analyzing his own performance and whether or not a different decision would have changed the outcome of a game. He goes over every game in his head afterward and admits that, like in any profession or walk of life, there's always room for improvement.
Nevertheless, and despite speculation that continues to gain speed, he refuses to let it weigh on him.
"My life's good," he said. "I enjoy competing every day out there. You play to win that game. In the end, people make decisions on things like that."
Evan Peaslee is an associate reporter for MLB.com. This story was not subject to the approval of Major League Baseball or its clubs.