Janssen looking to stay as Blue Jays' closer
Janssen looking to stay as Blue Jays' closer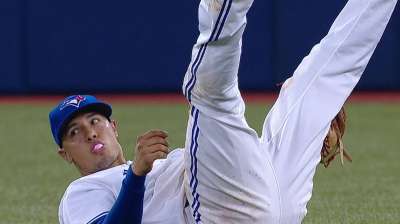 TORONTO -- In a Blue Jays season that hasn't lived up to preseason expectations, Casey Janssen has been a bright spot.
Toronto's closer has remained nearly perfect in save situations this season, and his $4 million club option for 2014 seems like a bargain for the club.
"The focus is always on staying healthy, finishing strong, and putting yourself in a position that the front office, and the eyes that are on you, are satisfied with you as a product," Janssen said.
The Blue Jays are 13 games below .500 following Friday night's 3-2 win over the Royals, so outside of playing spoiler, there is a lot to build on personally.
For the 31-year-old Janssen, it's about making sure that his role is secure in the organization.
"From a personal standpoint to continue to pitch well and hopefully come into Spring Training as the closer of the team without any doubt," Janssen said of his goals.
After entering Spring Training embroiled in a competition with Sergio Santos for the coveted closer's role, one would think that Janssen no longer has any doubters.
Despite being considered a non-traditional closer as he relies more on location than blowing away opposing batters, it's hard to argue with the success he's had at the back end of the bullpen.
After nailing down Friday's win, Janssen is 4-1 with 25 saves in 27 opportunities and a 2.86 ERA with 38 strikeouts in 44 innings.
Combined with a nearly identical line of a 2.54 ERA and 22 saves in 25 opportunities last year, he's certainly proven he can handle the role.
If Janssen were to come into 2014 as Toronto's closer, it's exactly where he'd like to be.
"I don't think anyone aspires to be vice president. I think everyone wants to be president," Janssen said. "I love being a closer; I enjoy the pressure, and being able to impact games."
While manager John Gibbons gave his support of Janssen for next season, a lot can happen between then and now.
Despite how the 2013 season has unfolded, it hasn't dampened Janssen's spirits any when it comes to exactly where he'd like to continue playing in the quest for a championship.
"Ultimately, you play this game to win a World Series. Being with Toronto my whole career there's no better place that I'd want to do it than here," Janssen said. "Just seeing the fans continue to support us, knowing what could be if we were actually in a race, and seeing how the country is already embracing us now, but what could be sounds unbelievable. Hopefully at some point we can give it to them, and hopefully that includes me being on that roster."
Evan Peaslee is an associate reporter for MLB.com. This story was not subject to the approval of Major League Baseball or its clubs.