Delabar back after dealing with shoulder inflammation
Delabar back after dealing with shoulder inflammation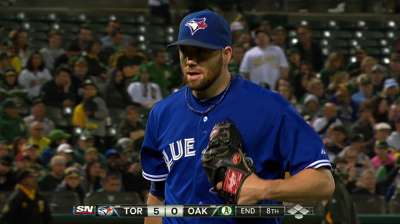 TORONTO -- Steve Delabar rejoined the Blue Jays on Sunday for their finale against the Royals. But even after dealing with right shoulder inflammation for the past month, the All-Star reliever is not questioning his weighted-ball program.
"No, not at all. No," said Delabar.
The 30-year-old, who has been using the program since 2010, simulates throwing with a weighted-ball without releasing it. He credits it with being a major factor in his being able to return to professional baseball after fracturing his right elbow in 2009.
"The strength was there, and even when I was still pitching [with a sore shoulder], I could pitch," Delabar said. "It was just ... that inflammation there ... just wouldn't go away. It just needed a few more days than I was getting. So that was the idea to shut me down for a little bit and get me going again."
Delabar has thrown 49 2/3 innings so far this year heading into Sunday, well on pace to surpass last season's career-high of 66 innings. But he refused to say the injury was a result of fatigue.
The Fort Knox, Ky., native first felt something after the Canada Day game, where he struck out the side in a perfect inning of work.
"That's when I really noticed something different," said Delabar. "I just kept pitching, because everything was fine going up to the All-Star Game and a little bit after there. ... Then, it was just one of those [things] where I needed a little bit more rest than I got."
Although the inflammation in his throwing shoulder caused him to miss almost a month of the season, the right-hander is hoping to learn from it and avoid a similar flareup in the future.
"Every little thing that you do, every little bump that you hit, you hope to avoid that bump next time," said Delabar. "I'm looking forward to getting my grand plan together and staying completely healthy."
Evan Peaslee is an associate reporter for MLB.com. This story was not subject to the approval of Major League Baseball or its clubs.