Hill faces Blue Jays for first time since trade
Hill faces Blue Jays for first time since trade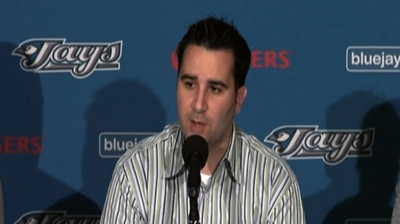 PHOENIX -- Drafted by Toronto with the 13th overall pick of the 2003 Draft, Aaron Hill became a mainstay with the Blue Jays during his seven years manning second base at the Rogers Centre. Now more than two full seasons after the organization traded him, along with John McDonald, to the desert in 2011 for Kelly Johnson, Hill finally got the chance to play against his former team for the first time, with the Blue Jays in town for a three-game set in Arizona.
"It's been a couple years, and a lot of those guys are gone, but there are still some guys that I developed great relationships with while I was there," Hill said before Monday's series opener, referring to the likes of Adam Lind and J.P. Arencibia. "I'm looking forward to see them, but we still have to focus on winning some ballgames here as we try and make a late push."
Although Hill's time with the Blue Jays ended rather tumultuously -- he hit a combined .213 in his final two seasons with the club -- the 31-year-old still cherishes his time spent in Toronto, his first adopted home.
"That was the only organization that I knew, and they treated me and my family wonderfully," Hill said. "It's a great city. I have nothing but good things to say. You wish them luck throughout the season until you're playing them. It's a great city, big city, had a lot of great times there. A lot of great memories."
Hill's best campaign in a Blue Jay uniform came in 2009, when he was named an All-Star, won his first Silver Slugger Award and took home the American League Comeback Player of the Year honor in a season in which he slugged 36 homers and tallied 108 RBIs. In all, Hill ranks 19th in franchise history in games played with 875, 18th in homers with 96 and 15th in RBIs with 409.
"Aaron Hill is an all-time Blue Jay; he's one of the best," Blue Jays manager John Gibbons said. "He was a really good player in Toronto for a number of years, but sometimes you need a new look; that's not uncommon in baseball. Bottom line, though, is he's been a good player his whole career. He's very talented, and I know they love him over here."
They certainly do. Hill has thrived in Arizona, batting a combined .305 since being traded and signing a contract extension that will keep him with the club through the 2016 campaign.
Tyler Emerick is an associate reporter for MLB.com. This story was not subject to the approval of Major League Baseball or its clubs.