Toronto callups include four pitchers, catcher
Toronto callups include four pitchers, catcher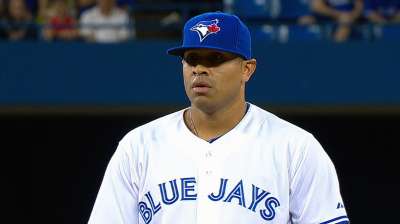 PHOENIX -- With the Triple-A Buffalo season concluding Monday, the Blue Jays said they would bring five players from the Bison roster to join the club in Arizona. Pitchers Kyle Drabek, Luis Perez, Ricky Romero and Jeremy Jeffress, along with catcher Mike Nickeas, will be available Tuesday for Toronto's second game against the D-backs.
All of the players except for Drabek must be added to the 40-man roster. The Blue Jays will announce the corresponding moves Tuesday.
While it is customary for Major League teams to call up a third catcher in September, the four pitchers' roles moving forward are undetermined.
"We're not sure yet, but they will all pitch," Blue Jays manager John Gibbons said when asked if the callups would get a chance to start or join the bullpen. "We're a little bit beat up down there, so we need some reinforcements. We'll get them in."
Drabek has pitched in three seasons for the Blue Jays, most recently making 13 starts for the club last year, going 4-7 with a 4.67 ERA. In his first action back from Tommy John surgery, the right-hander worked 43 Minor League innings in 2013 between three levels and posted a 3.14 ERA.
Romero is a veteran of five seasons in Toronto, but after finishing 15-11 with a 2.92 ERA in 2011, he went 9-14 last year with a 5.77 ERA in 32 starts. He has appeared in two games for the Blue Jays in 2013, giving up six runs in 4 1/3 innings. Romero is 5-8 with a 5.52 ERA in the Minors this year.
Tyler Emerick is an associate reporter for MLB.com. This story was not subject to the approval of Major League Baseball or its clubs.