Rasmus uses caution in hopes of stronger return
Rasmus uses caution in hopes of stronger return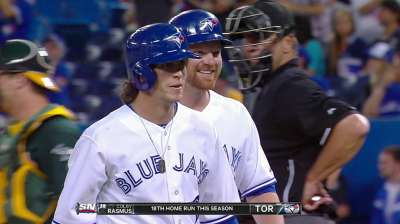 TORONTO -- Though Colby Rasmus is still not ready to return from a left oblique injury, he has learned from his past.
Rasmus has played through oblique injuries before, and he was not going to let this injury linger and hamper him for the rest of the season.
"In the past I didn't slow myself down enough to try and come out of the game; I just kept playing, and it didn't work out in my favor," Rasmus said. "So, I felt this time I needed to get myself right. That way I can come back strong and healthy and be able to help the team. Instead of putting myself through pain and trying to play through it, and maybe not doing as well as I could."
The Blue Jays center fielder, who last played Aug. 11, has made sure he has cut himself off as soon at the first sign of discomfort, to make sure that he does not further aggravate the typically finicky injury.
Rasmus has been spending the past month at the club's Minor League complex in Dunedin, Fla., but it was not until he returned to Toronto on Monday that he able to truly test where he was physically.
The 27-year-old had been taking swings off a tee and taking flips, but he was not able to let loose until taking batting practice for the first time prior to Tuesday's game with the Angels.
Afterward he reported no pain, and he was just trying to get back into his old routine.
"Feeling good, just trying to get back on this turf, taking some swings, taking some full hacks," Rasmus said. "Down in Florida, I wasn't able to really get into it, get after it. So, go up here and get some swings on the field and running some balls down."
"As long as I get my swing feeling good, as far as my routine that I was doing before I left, get all those things going, I think the game will come to me fairly quick."
While Rasmus refused to set a timeline for his recovery, there is a general thought that perhaps by the end of the week he could get back into a game.
Until then, he will continue to just prepare and rehab his oblique.
"I didn't think of anything other than that… if I had a chance to come back and play, and I feel good, and my body feels good, then that's what I'm going to do," Rasmus said.
Evan Peaslee is an associate reporter for MLB.com. Follow him on Twitter at @EvanPeaslee. This story was not subject to the approval of Major League Baseball or its clubs.