No. 2 in lineup a 'good spot' for Lawrie
No. 2 in lineup a 'good spot' for Lawrie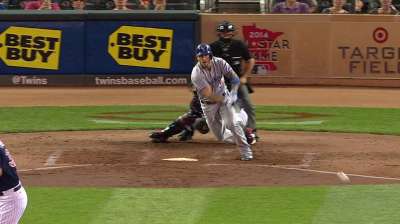 TORONTO -- Brett Lawrie batted second in the lineup in Saturday's game vs. the Orioles, and it's a spot in which he may find himself more frequently.
The athletic third baseman has hit up and down the lineup all season, but with his ability to hit for average with some speed on the basepaths and extra-base power, it may be the perfect spot for him.
"That two-hole might be a good spot for him," manager John Gibbons said. "Brett, looking down the road, can almost fill in anywhere. We think he's going to be a good hitter. We think he's going to hit for average, he's going to hit his share of home runs, drive in some runs, so he can really slot in anywhere. You like him up top because he's got some speed so he's not going to clog anything up, and he can make some things happen on the bases."
Lawrie started the season slowly thanks to a pair of injuries that caused him to miss significant time, but his numbers after the All-Star break reflect exactly what the Toronto skipper was talking about.
Lawrie is batting .291 with six home runs, 27 RBIs, 24 runs scored, and five stolen bases over 53 games since the Midsummer Classic.
"Since he's come back from his ankle, he's been great," Gibbons said. "You look at his skills and his talent level he's got as much as anybody. He's a great athlete. He's got everything. So now it's just a matter of it coming out on a consistent basis."
Evan Peaslee is an associate reporter for MLB.com. Follow him on Twitter at @EvanPeaslee. This story was not subject to the approval of Major League Baseball or its clubs.