Lind reaches goal with 20th homer of season
Lind reaches goal with 20th homer of season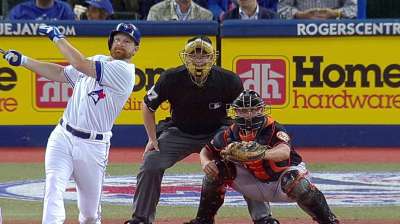 TORONTO -- In Friday night's contest, Adam Lind reached a goal he had set for himself in the offseason when he hit his 20th home run of the season.
"It felt good. That's my goal every year is 20 home runs," Lind said. "If you do that, it's usually a solid year in terms of power numbers. It'll keep you in the big leagues if you continue to do that, so hopefully I can do it few more times in my career."
For the left-handed hitter, it's the fourth time in his career he's done it, as he continues to rebound a year after being outrighted to the Minor Leagues and removed from the 40-man roster.
But 2013 has been much kinder to Lind, who has hit at least 20 home runs for the fourth time in five seasons and has his third-best batting average of .279. He's also appeared in the most games since 2010, and has his second-best on-base percentage in his career (.349) that ranks fourth on the club behind the usual suspects of Edwin Encarnacion, Jose Bautista, and Jose Reyes.
Overall, it's been a season of redemption for Lind, but he's still not completely satisfied with his season. That has more to do with striving to be better than it does being disappointed in his results.
"That's how it is in any profession. If you're satisfied, you're probably retiring," Lind said. "If you ask anybody, they could have always done a little bit better. There's always RBIs out there that you never get in. Especially runner on third and less than two outs, it's always one of my big pet peeves. Make contact and get the runner in. If you just think about that situation, that's probably five or six RBIs that you didn't get."
For the 29-year-old, the timing of his return to hitting at a Major League level couldn't have come at a better time. The Blue Jays hold a $7 million dollar club option on the first baseman/designated hitter that if declined, would cost the club $2 million dollars for a buyout.
Thus Lind enters an offseason of uncertainty, something that he's not overly concerned with.
"I'm not real worried about it, because I'll have a job somewhere," Lind said. "[But] I think I showed that I'm an important part of this lineup. I hope they view it that way and retain me as a player. ... [All] I can do is play games, and that's almost over. Now it's up the front office."
Whether Lind's option is picked up or not is entirely in the hands of the front office, but at the very least, the Muncie, Ind., native believes he's put his best foot forward.
"I've hit in the heart of the order on an AL East team my whole career on one of the better run-scoring teams," Lind said. "I've been a part of some great offenses in this franchise, and hopefully the important people view in that way too."
Evan Peaslee is an associate reporter for MLB.com. Follow him on Twitter at @EvanPeaslee. This story was not subject to the approval of Major League Baseball or its clubs.