Encarnacion has successful wrist surgery
Encarnacion has successful wrist surgery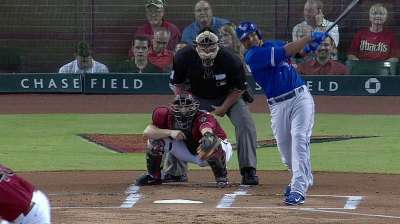 TORONTO -- Blue Jays designated hitter Edwin Encarnacion had surgery to remove some cartilage from his ailing left wrist Thursday in Cleveland.
The surgery was successful, and all reports are positive in the relatively minor procedure.
"Eddy had his surgery today, it went well," manager John Gibbons said.
Encarnacion was shut down for the remainder of the season on Tuesday due to lingering pain in his wrist that caused him discomfort when he swung a bat.
The Toronto slugger was hoping to play through the pain until the end of the season, but after he struck out swinging and threw his bat in the stands in his final at-bat Sunday vs. the Orioles, he knew that was no longer possible.
"After that swing, I say, 'I can't go more. I can't swing,'" Encarnacion said on Tuesday.
A "conservative" estimate has the recovery time from the surgery at around two months, and it should have no effect on his offseason training.
"I wouldn't think [it would affect him]," Gibbons said. "He can do everything else but swing a bat. Time's on his side right now."