Bullpen a bright spot heading into 2014
Bullpen a bright spot heading into 2014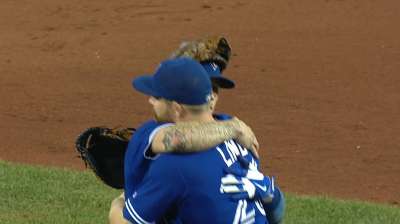 CHICAGO -- Blue Jays manager John Gibbons said Monday that the performance of the bullpen has been a bright spot for an injury-riddled club that is in last place in the American League East as the regular season winds down.
"There's a number of those guys [who have performed well]," Gibbons said of his relievers. "You're not relying on two or three guys. We've got a handful of them down there that on any given night you can bring any one of them in and feel good about it."
Toronto's bullpen entered Monday with a 3.43 ERA for the season, and Gibbons said that type of dependability from the club's relief corps was far from certain in Spring Training.
"I think the feeling was, coming out of Spring Training, that [the bullpen] might be the weak point, with [Casey] Janssen coming off the shoulder problems and you didn't know how he was going to be.
"Everybody liked [Steve] Delabar and [Aaron] Loup. [Dustin] McGowan was up in the air and we didn't know if he was going to pitch at all. Sergio Santos was coming off the arm problems. … [Neil] Wagner came out of the blue. And [Brett] Cecil, there was a question whether he was even going to make the team, and he turned into an All-Star."
The bullpen has been a pleasant surprise in a trying season for the Blue Jays, and is an asset for the team as it winds down 2013 and looks ahead to next season.
"A lot of good things have happened [with our bullpen]," Gibbons added. "And it's a part of our strength."
Manny Randhawa is an associate reporter for MLB.com. This story was not subject to the approval of Major League Baseball or its clubs.