Arencibia's struggles force questions for front office
Arencibia's struggles force questions for front office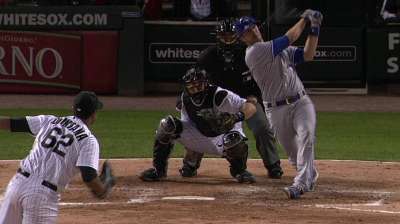 BALTIMORE -- Blue Jays general manager Alex Anthopoulos will have some tough decisions to make this offseason when it comes to his starting catcher for the 2014 season. J.P. Arencibia has been a mainstay in that role for the past three years, but that is in at least some doubt following a disappointing '13 campaign.
Arencibia has struggled with the bat since April and at times has become a lightning rod for criticism, particularly after his war of words with the Blue Jays' broadcasting team earlier this summer. That doesn't mean he won't be back, but when asked about Arencibia's status for next year, Toronto's GM remained non-committal.
"The one thing you're never going to see me do is criticize players openly other than stating the obvious when they're on the roster or on the team," Anthopoulos said. "I think I can say this for the entire team, we're going to look to improve anywhere we can. That's not to single anybody out and it's all about the alternatives."
Arencibia entered play on Wednesday night hitting .194 with 21 home runs and 54 RBIs in 136 games this season. The home runs are the most this season by any catcher in the Major Leagues, but his .594 OPS ranks fourth worst in all of baseball.
Those numbers pale in comparison to that of his first two full seasons, when he posted an OPS above .700 each year. To his credit, Arencibia has battled a left knee injury for most of the season, but managed to get through the year without a stint on the disabled list.
The durability is impressive, but the production hasn't been what Anthopoulos thought it would be heading into the year.
"He has been better than this in his first two years in the league," Anthopoulos said. "There are certain things that you would expect, the average has always been in the mid-to-low .200s, definitely not below .200. Power has always been there, and he's not a guy that's going to walk much.
"But the OPS, you'd expect it to be .700-.720 and now [where he's at] is out of character. Obviously he's in a prolonged funk ... looks like he's late getting his foot down, but like anything else, I think he has handled his struggles the last month as well as he can."
The one thing Arencibia won't have to worry about is an internal candidate taking over his job. Catching prospect Travis d'Arnaud was dealt to the Mets last offseason, while A.J. Jimenez is expected to begin 2014 at Triple-A Buffalo.
That means if the Blue Jays plan to go with someone else, it would have to be a catcher from outside the organization. It remains to be seen whether that will happen, but Anthopoulos was steadfast in at least one thing about the catcher position.
"We need to upgrade the production," Anthopoulos said.
Gregor Chisholm is a reporter for MLB.com. Read his blog, North of the Border, and follow him on Twitter @gregorMLB. This story was not subject to the approval of Major League Baseball or its clubs.