Catching Dickey is key to Kratz's shot at backup role
Catching Dickey is key to Kratz's shot at backup role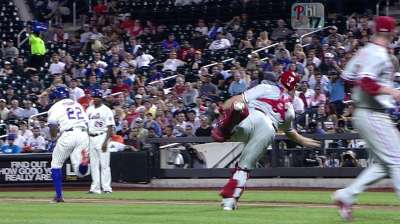 TORONTO -- Veteran catcher Erik Kratz appears destined for Triple-A Buffalo, but the Blue Jays have every intention of giving him an opportunity to compete with Josh Thole for the backup role in Toronto.
The only way Kratz would have a realistic shot at a spot on the big league roster is if he can prove capable of handling the knuckleball. The Blue Jays plan to have Kratz work at least on a part-time basis with R.A. Dickey during the spring to see how their partnership works out.
Thole spent most of the 2013 season as Dickey's personal catcher, and while it's expected that will continue again next year, general manager Alex Anthopoulos didn't want to completely close the door on Kratz.
"From a defensive standpoint, we always viewed him as above average," Anthopoulos said. "He can frame well, good defender, can throw well. He has options left as well, so that certainly helps from a depth standpoint. Him and Josh Thole can compete for that spot, one of the challenges is going to be can be catch R.A., but we'll take a look at that in Spring Training."
Kratz does have some experience with the knuckleball after previously catching journeyman Charlie Zink. Dickey's knuckler is far superior and will provide a much bigger challenge, but it at least means Kratz won't be working from square one in his introduction to the pitch that is notoriously hard to catch.
The 33-year-old Kratz was acquired from the Phillies alongside left-handed pitching prospect Rob Rasmussen on Tuesday night in exchange for right-hander Brad Lincoln. The veteran Lincoln became expendable because he was out of options on his contract and was a long shot to crack next year's bullpen.
Rasmussen made 14 starts in the Pacific Coast League this past season but now could find himself making a transition to the bullpen. Anthopoulos said a final decision on his future has yet to be made, but it appears as though the 24-year-old will be somewhat of a long shot to crack the rotation in Triple-A Buffalo and instead will be pitching out of the 'pen.
"He has all three options left," Anthopoulos said of Rasmussen. "We're not sure ultimately if he'll be a starter or a reliever, I think for right now, we would project him to go the bullpen and provide depth for us.
"He has a very good arm, very good athlete, very good stuff. You get to turn back the clock a little bit, because Brad is out of options and was going to have to make our team."
Gregor Chisholm is a reporter for MLB.com. Read his blog, North of the Border, and follow him on Twitter @gregorMLB. This story was not subject to the approval of Major League Baseball or its clubs.