Sierra likely to platoon with Lind next season
Sierra likely to platoon with Lind next season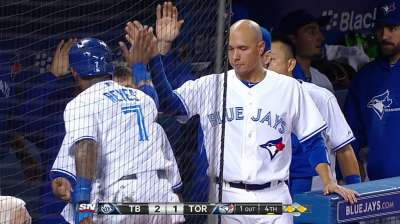 TORONTO -- Moises Sierra appears to be the early favorite to win the job as a platoon partner for designated hitter/first baseman Adam Lind next season.
Lind will see the bulk of the work against right-handed pitching, but there's still a need for someone to start against lefties. That job once belonged to Mark DeRosa, but an opening was created when he recently decided to step away from the game to pursue a career in broadcasting.
Sierra has spent his entire career in the outfield, but he recently began preparing for a potential new role by taking ground balls at first base. Sierra is out of options on his contract and a platoon with Lind appears to be the only way he could stick with the organization.
"Sierra could be that guy," Blue Jays general manager Alex Anthopoulos said. "We've had him taking ground balls at first base, just because he's out of options and we're trying to think of ways he can make this team.
"Just to give the roster more versatility, if he can play some first base, just to have the ability to do it, he might be the platoon partner for Lind."
Sierra's days in Toronto's system appeared to be numbered following a disappointing year with Triple-A Buffalo. Sierra managed to hit .261 with a .731 OPS in 100 games, but his standing within the organization changed when he had a strong finish in Toronto.
The 25-year-old got another chance at big league experience when outfielders Melky Cabrera, Colby Rasmus and Jose Bautista all went down with injuries. That opened up playing time for Sierra, and he responded by hitting .290 with a .827 OPS while recording 15 extra-base hits in just 35 games.
Toronto is still searching the market for someone else to compete for the job as well, but if Sierra can prove capable of just some part-time work at first base, then it's certainly possible he'll find himself breaking camp with the team.
"We've definitely talked to clubs about getting a platoon-type guy," Anthopoulos conceded. "Sierra's definitely not a lock to make this team, but because he's out of options, we'd like to find every way we can to keep him, because he has made some strides.
"He looked really good in September. He made some changes to his swing in September, and he got to spend a lot of time with [Edwin] Encarnacion. But if you look at the numbers he had in the Minors last year and then what he did in September, it was surprising. A great surprise."
Gregor Chisholm is a reporter for MLB.com. Read his blog, North of the Border, and follow him on Twitter @gregorMLB. This story was not subject to the approval of Major League Baseball or its clubs.