Anthopoulos looking to upgrade rotation if possible
Anthopoulos looking to upgrade rotation if possible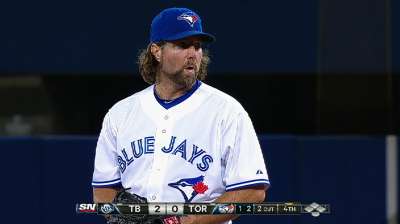 TORONTO -- The Blue Jays are continuing their search for an upgrade in the starting rotation, but general manager Alex Anthopoulos stopped short of predicting the offseason would be a failure if a move cannot be made.
Anthopoulos emphasized that the search for help in the rotation is far from over, but he added that nothing appeared imminent. Dialogue with other teams and free agents will continue in the coming days and weeks, but at least for now, there aren't any easy solutions.
Anthopoulos entered this offseason with the main goal of adding at least one significant piece to his starting group, and while that still remains the case, he also talked at length about depth the organization already has in its system.
"We're always looking to add," Anthopoulos said Wednesday. "Anyone wants to add a frontline starter each year. We just want to improve the rotation. Clearly the results were what they were last year. Part of that improvement will come internally.
"Any way we can improve the rotation, we would do that. A clean fit is adding one [starter] if we could, and if two become available, three become available and they're better than what we have, then we would look to do it."
Toronto finished last season ranked near the bottom in the American League of almost every major starting pitching category. The Blue Jays were second to last in innings pitched (899 1/3) and ERA (4.81) while also finishing with the third-highest WHIP (1.41) and opponents' batting average (.272).
The numbers were an extreme disappointment for a team that felt starting pitching was a major strength heading into the year. Anthopoulos believes there are positives to be taken from the way R.A. Dickey and Mark Buehrle performed after a slow start, while a return to health by Brandon Morrow could become a deciding factor.
Outside of those top three, though, Anthopoulos feels a big reason for optimism is the amount of internal options the club has heading into Spring Training. Left-hander J.A. Happ is a potential veteran presence at the back end of the staff, while the likes of promising youngsters Drew Hutchison, Kyle Drabek, Marcus Stroman and Sean Nolin provide promise alongside returnees Esmil Rogers and Todd Redmond.
There's still a glaring need for more stability, but the team does appear better equipped to handle injuries than it was a year ago. In 2013, the Blue Jays often had to give starts to journeymen like Chien-Ming Wang, Dave Bush and Ramon Ortiz, but the options in 2014 will be far superior.
"We knew we were thin in the depth department beyond our five or six, and I think now our starters six through 10 are so much stronger than they were last year," Anthopoulos said. "We had about 30 starts last year of guys that were 6.00 ERAs and above, the Chien-Ming Wangs and the Ortizs.
"I think that's what ends up killing you when you're giving that many starts to those guys. Now if it ends up being the Stromans, the Drews, the Nolins, guys like that, Todd Redmonds, those are the guys that get those starts, and that should improve us significantly."
Gregor Chisholm is a reporter for MLB.com. Read his blog, North of the Border, and follow him on Twitter @gregorMLB. This story was not subject to the approval of Major League Baseball or its clubs.