Creative Anthopoulos open to options
Creative Anthopoulos open to options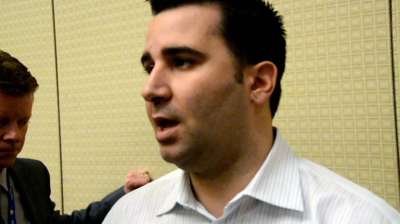 LAKE BUENA VISTA, Fla. -- The Blue Jays continue to explore the trade market in search of another impact starting pitcher, but so far the asking prices from across the league haven't exactly been cheap.
The lower levels of Toronto's Minor League system contain a lot of depth, but the same can't necessarily be said about Double-A and Triple-A. That creates some problems, because opposing teams often are looking for a series of prospects who are relatively close to the Majors.
Aaron Sanchez and Marcus Stroman -- Toronto's top and No. 3 prospects, respectively, as ranked by MLB.com -- have been a hot topic of conversation in recent weeks as general manager Alex Anthopoulos attempts to be creative in his search for an upgrade on the mound.
"Almost every time," Anthopoulos said when asked if teams are asking for Stroman or Sanchez. "If you're trying to get a controllable starter, everyone would prefer to get the talent level that's closest.
"That always carries the most value, there's less risk, you know more about the player, et cetera. Sanchez, Stroman, guys like that, they come up in every trade talk we probably have."
Toronto certainly would prefer to hang onto Stroman and Sanchez, as they represent the next wave of starting pitchers in the Blue Jays' system. By most accounts, Stroman is ready for the Major Leagues, and Sanchez has an outside chance of making his debut before the end of the year.
The two right-handers likely increased their value even more with strong performances in the Arizona Fall League, and it's clear they've drawn a lot of interest from across the league.
There might be some reluctance on Anthopoulos' part to move either player, but they certainly can't be considered untouchable. Anthopoulos continuously states that he is open to moving any player in the right deal, and the same policy applies to this situation as well.
"No," Anthopoulos said when asked if Sanchez or Stroman were off-limits in trade talks. "That's not to say we want to trade those guys, but I want to hear teams out. I'm open-minded. You do factor in how many years of control you're going to have the player for, how much better is that player, do you have potential to extend the player, can you get a window -- all of those things are part of the equation."
The potential return will dictate just how much the Blue Jays are willing to give up. The club has been linked to Cubs right-hander Jeff Samardzija, and according to other reports, several starters have been made available at this week's Winter Meetings, including Philadelphia's Cole Hamels and Cliff Lee, Cleveland's Justin Masterson and, possibly, Tampa Bay's David Price.
Gregor Chisholm is a reporter for MLB.com. Read his blog, North of the Border, and follow him on Twitter @gregorMLB. This story was not subject to the approval of Major League Baseball or its clubs.