Navarro happy to catch quick-working Buehrle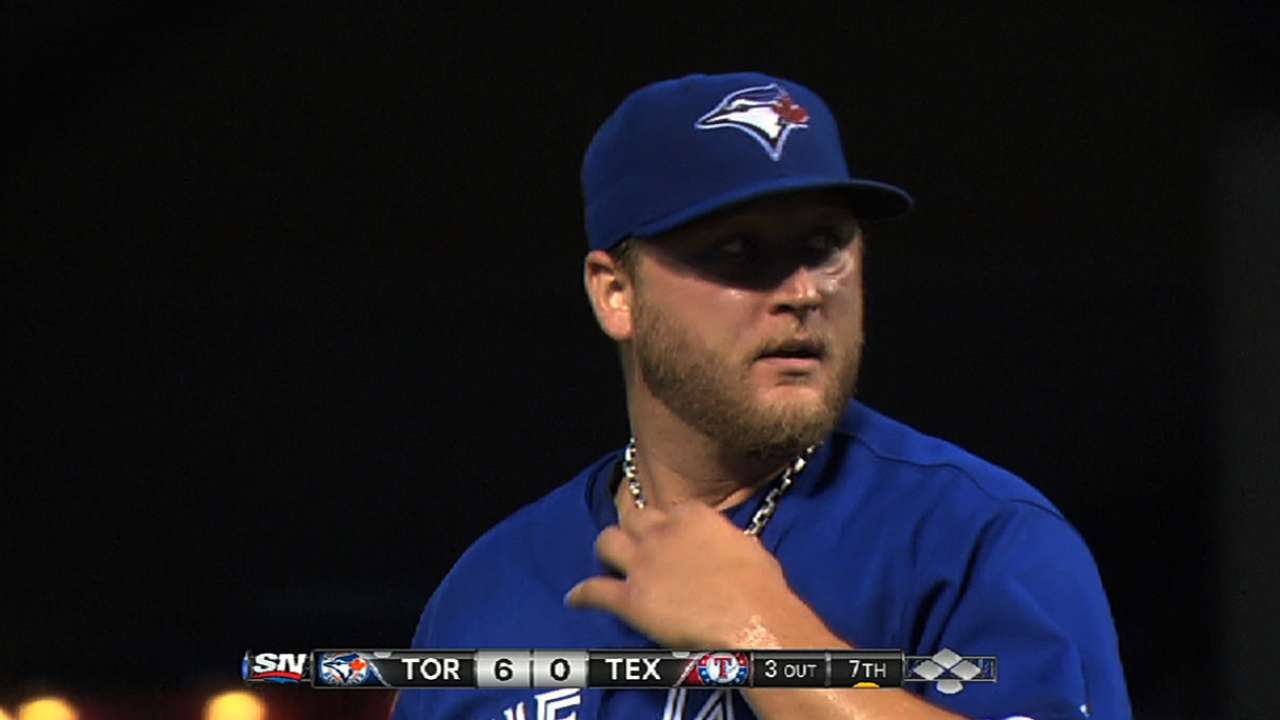 DUNEDIN, Fla. -- Dioner Navarro has been around the game for the past 10 years, but he has never dealt with a pitcher quite like left-hander Mark Buehrle.
Buehrle is generally considered the fastest working pitcher in the big leagues. As soon as he gets the ball, he's toeing the rubber and looking for a sign from the catcher. There's no patience for any delays.
The veteran left-hander also can't remember the last time he shook off a catcher. Whatever pitch is asked for, Buehrle throws it with no questions asked. That puts an onus on his teammate to make sure the pitch and location matches up with the scouting reports.
"First thing I told him when we met, I said, 'Listen, I don't shake off, so I like the sign down and hope you've got a game plan back there, because I don't really go over one, I don't follow one, so I just kind of go off [the catcher's signs],'" Buehrle said.
"That's big for them to know the hitters and know what I like to throw in certain situations. So far, we're just working on some stuff right now and getting his feedback on certain pitches that I'm throwing, so it's good."
Buehrle and Navarro worked together for the first time during Friday afternoon's game against the Pirates. Buehrle struggled with the control of his sinker, but allowed just two hits and one run over the course of two innings.
The next four weeks will be about building a strong partnership between the pitcher and catcher. Last year's catcher, J.P. Arencibia, struggled to adjust at the outset of the season to Buehrle's timing, and it will be up to Navarro to ensure that doesn't happen this time around.
"I'm up to the challenge," Navarro said. "It's going to be a lot of fun. This guy's been in the league for a long time. He knows what he's supposed to do. He knows how he can work the hitters.
"He doesn't like to call pitches because he trusts all of his stuff, so whatever number I put down, even if it's not the right pitch at the moment, he still has a lot of confidence he's going to throw it. He throws it with conviction, which is the most important thing."
Gregor Chisholm is a reporter for MLB.com. Read his blog, North of the Border, and follow him on Twitter @gregorMLB. This story was not subject to the approval of Major League Baseball or its clubs.