Romero focused on positive aspects of latest outing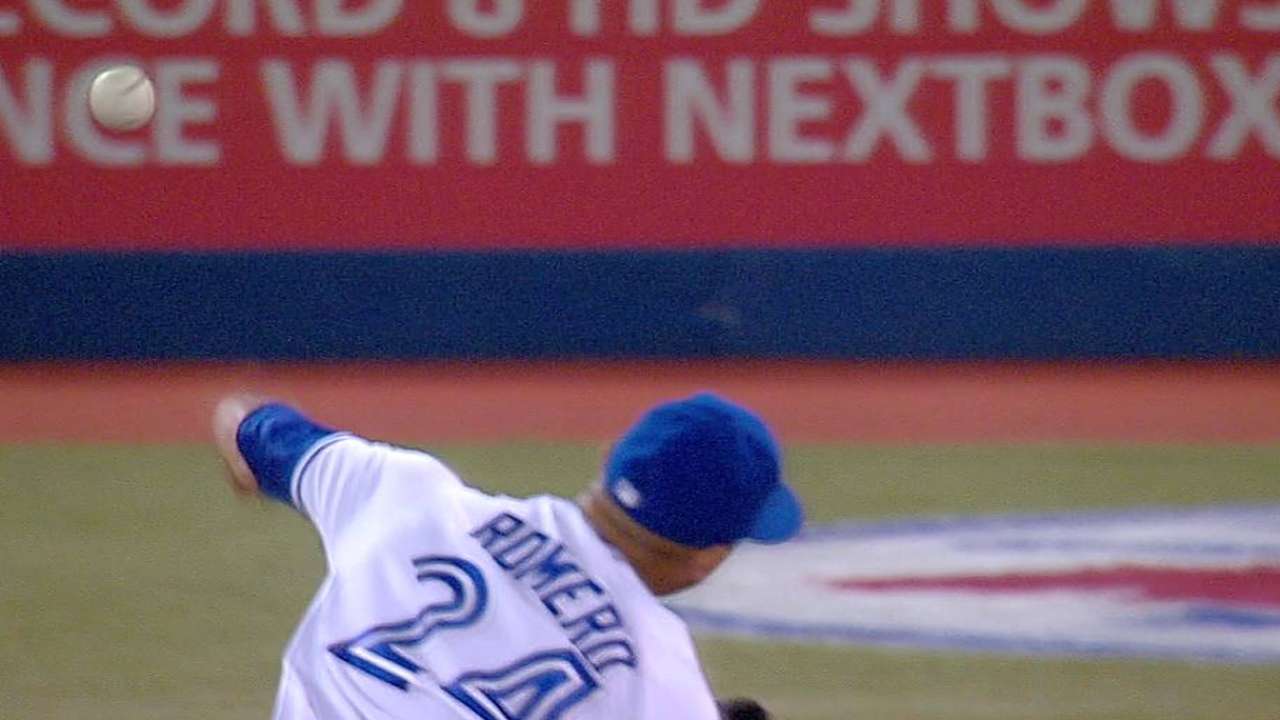 SARASOTA, Fla. -- Left-hander Ricky Romero focused on the positives after pitching a scoreless inning vs. Baltimore that included a pair of walks.
Romero walked the first two batters he faced on a total of nine pitches. The first four balls all missed low and away, but he was able to get back on track and finish the rest of his outing unscathed.
The 29-year-old stranded the two baserunners by getting Baltimore's Chris Davis, Adam Jones and Nick Markakis to hit weak fly balls. The start was far from pretty, but that's not what Romero decided to focus on afterwards.
"It was good, it could have been a lot worse," said Romero, who entered in the fifth. "I was excited to get out there and it's different coming out of the bullpen. It's just weird to me, but I got three good hitters out after those two walks. Threw strikes when I had to, bared down, and nothing but positive things other than those two walks."
The fact that Romero decided to talk about the positives is probably a good sign. The last thing the Blue Jays and Romero want to do is spend anymore time going over a 2013 season that saw him outrighted to the Minor Leagues just one year after he was the club's No. 1 starter.
It has been a frustrating couple of years, but the focus is now on taking those steps to regain his confidence and figure out his mechanics on the mound. The walks weren't a good sign, but the following three quick outs were. More won't be known until he's given an opportunity to go beyond just one inning.
"We sped up his delivery a little bit," Blue Jays manager John Gibbons said. "He has a little rhythm and that's a key to pitching. When you get into those ruts, and you could see it last year, real slow and deliberate and a lot of times that works against you. But that's kind of the natural way guys do things when they're trying to put everything back together and trying to repeat things. But he looks a heck of a lot better.
"It has been a battle for him. Mentally, it has been tough on him, but he has hung in there pretty good. He has been to the top of this game and now he's down to the bottom. You're probably pulling for that guy a lot extra than you are some of the other guys, simply because of what he has been through."
Gregor Chisholm is a reporter for MLB.com. Read his blog, North of the Border, and follow him on Twitter @gregorMLB. This story was not subject to the approval of Major League Baseball or its clubs.