Janssen held out of action with sore shoulder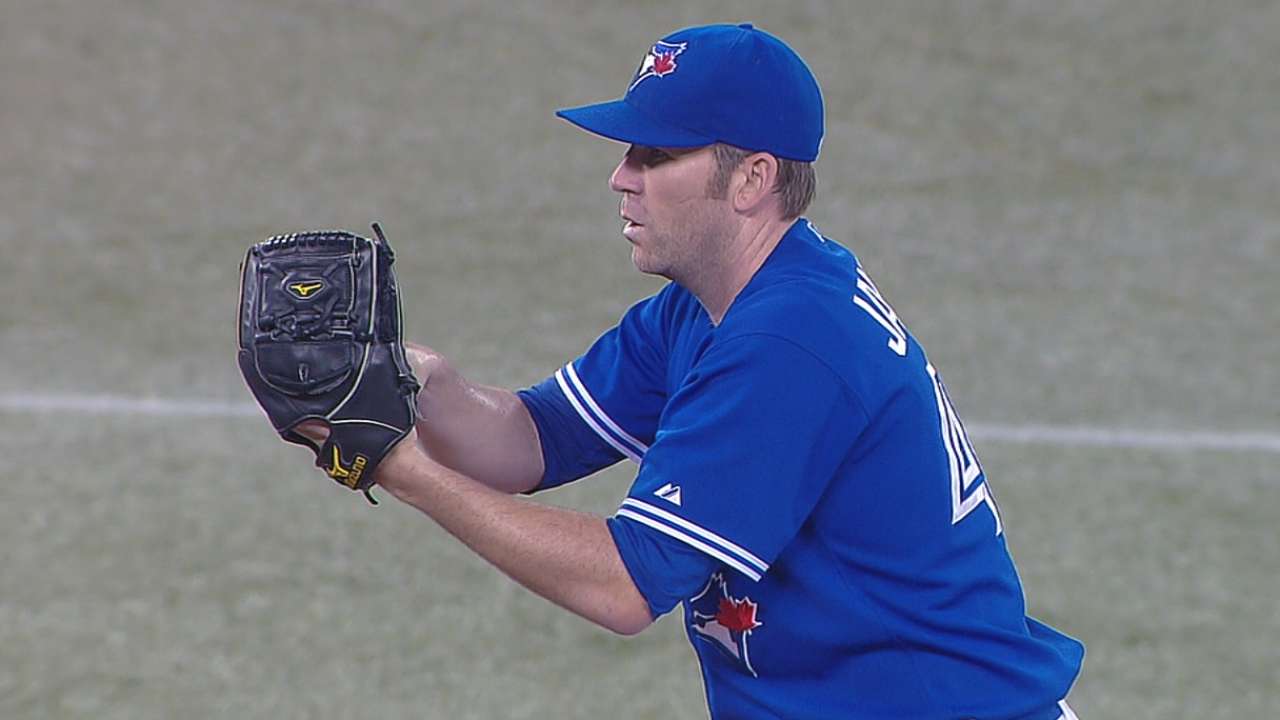 SARASOTA, Fla. -- Right-hander Casey Janssen has been held out of action this week because of a sore shoulder.
Janssen has yet to appear in a Grapefruit League game and his overall throwing routine has been limited because of lingering soreness. According to the Blue Jays, the issue isn't expected to be anything too serious.
Toronto's closer underwent shoulder surgery prior to the 2013 season and made only two official appearances that spring, but still managed to get through the year without going on the disabled list.
"He's still a little stiff," Blue Jays manager John Gibbons said. "He'll go a few days and then get back up there. He didn't throw a whole heck of a lot last [spring] either and had a pretty good year. Want to make sure he's ready to go, he'll have plenty of time."
Third baseman Brett Lawrie also is dealing with a minor injury. He was scratched from Saturday afternoon's game vs. the Orioles because of a tight hamstring. Lawrie wanted to make the trip to Sarasota, Fla., but Gibbons told him to take a day off instead.
Lawrie is expected to be back in the lineup Sunday afternoon against the Yankees. The same thing can be said for first baseman Edwin Encarnacion, who also was given the day off after originally being scheduled to make the trip to face Baltimore.
"I just gave Eddie a couple of days, he's coming off that wrist thing," Gibbons said of Encarnacion, who underwent surgery last September. "There's absolutely nothing wrong there, but I thought, you know what, let's be smart about it. He'll play [Sunday] and he'll go down to Fort Myers with us too [on Monday]. Back-to-back days the next two days."
The Blue Jays seem to be taking a cautious approach this spring and it's easy to understand why. Last season, Adam Lind, Mark DeRosa and J.P. Arencibia were the only position players that started the year with the team and didn't spend time on the disabled list.
Toronto's pitching staff was equally decimated by the injury bug. R.A. Dickey and Mark Buehrle were the only healthy starters while Janssen and Aaron Loup were among the only healthy relievers.
"You get a little gun shy because we saw so many of our key guys go down," Gibbons said. "You don't feel like those things are going to happen again, but it weighs on you, it's in the back of my mind.
"The fact that it's Spring Training, a guy like Eddie, he's a little bit older, he's not like that young kid. You know he's going to hit so we just want to make sure he's ready to go for Opening Day."
Gregor Chisholm is a reporter for MLB.com. Read his blog, North of the Border, and follow him on Twitter @gregorMLB. This story was not subject to the approval of Major League Baseball or its clubs.