After rough start, Happ looks to next outing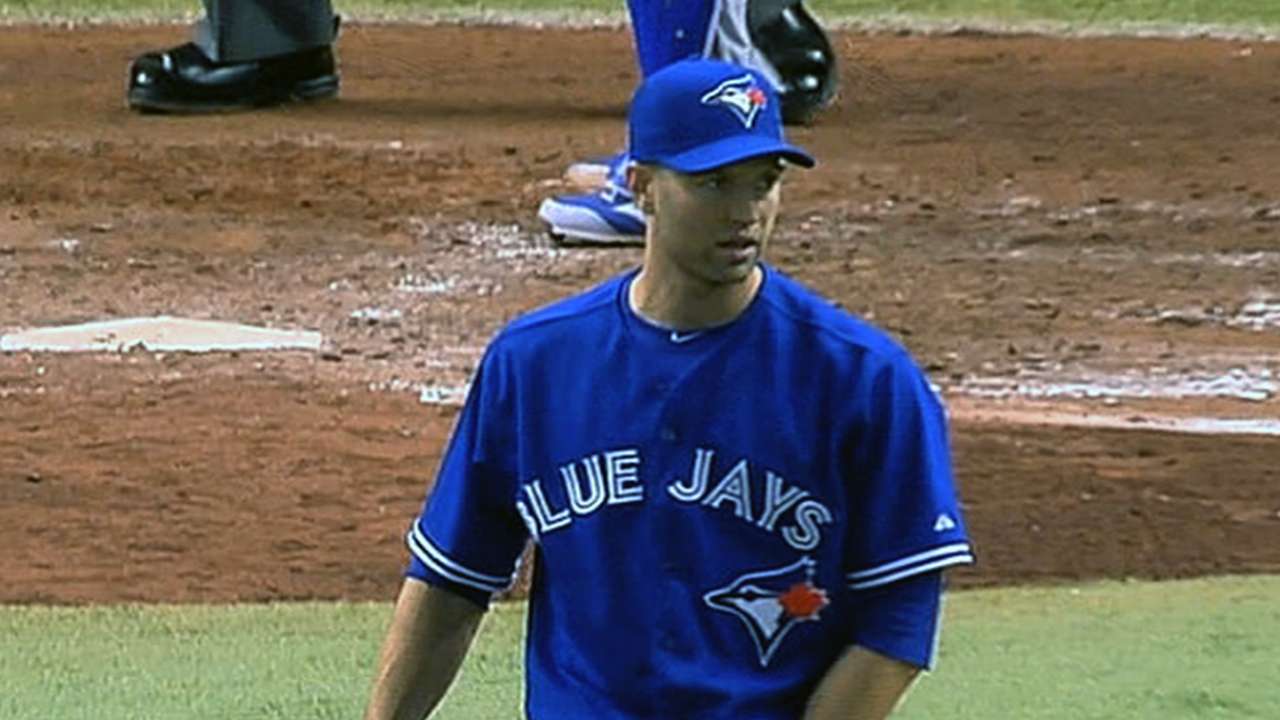 FORT MYERS, Fla. -- That wasn't the outing J.A. Happ had envisioned. The southpaw got the ball for the Blue Jays on Monday against the Twins, but he was only able to record one out. Happ gave up two hits and walked four batters, and he said later that there weren't many positives to take home.
"I'm just anxious to get out there and do it again," said Happ. "We're definitely going to take a look at this one. The fluidity wasn't quite the same as last time. I definitely need to be more aggressive in the zone, let our defense do its thing. Trust that. I probably tried to do too much today."
Happ, who went 5-7 with a 4.56 ERA in 18 starts last season, would've liked to see a little more consistency in his second start. The left-hander fell behind just two batters into the game, and he wasn't able to stay on the mound long enough to find his bearings.
"I felt like I was making some good pitches. And the good pitches I made, they just took," Happ said. "I wasn't as sharp with my fastball command as I'll need to be. That always makes it tough."
The Blue Jays never really recovered from Happ's adverse outing. Toronto pitchers walked eight batters and allowed 14 hits in the 12-2 loss. Minnesota, by contrast, walked just two batters, and Toronto manager John Gibbons said there wasn't much more to glean from Happ's game.
"He struggled. He couldn't throw any strikes," said Gibbons. "We were allergic to strikes today on the mound. [Pitching coach] Pete Walker told me he didn't miss a spot warming up before the game, and then he couldn't find one out there. It wasn't like he was scattering it all over. He was close, but you've got to keep it in the zone. Take your chances. Let them hit the ball. ... You're looking for contact."
Happ, for his part, said he does not subscribe to the theory that you can be hit hard early in Spring Training. For this pitcher, a difficult loss in Spring Training feels just like one in the season.
"It doesn't matter where you feel you are: You're trying to get outs and trying to be successful," Happ said. "Results-wise, it might not be as big as the season, but you definitely want to take steps forward. I think next time will be a step forward. We'll take a look at how it went today and make adjustments."
Spencer Fordin is a reporter for MLB.com. This story was not subject to the approval of Major League Baseball or its clubs.