Finally healthy, McGowan competing for roster spot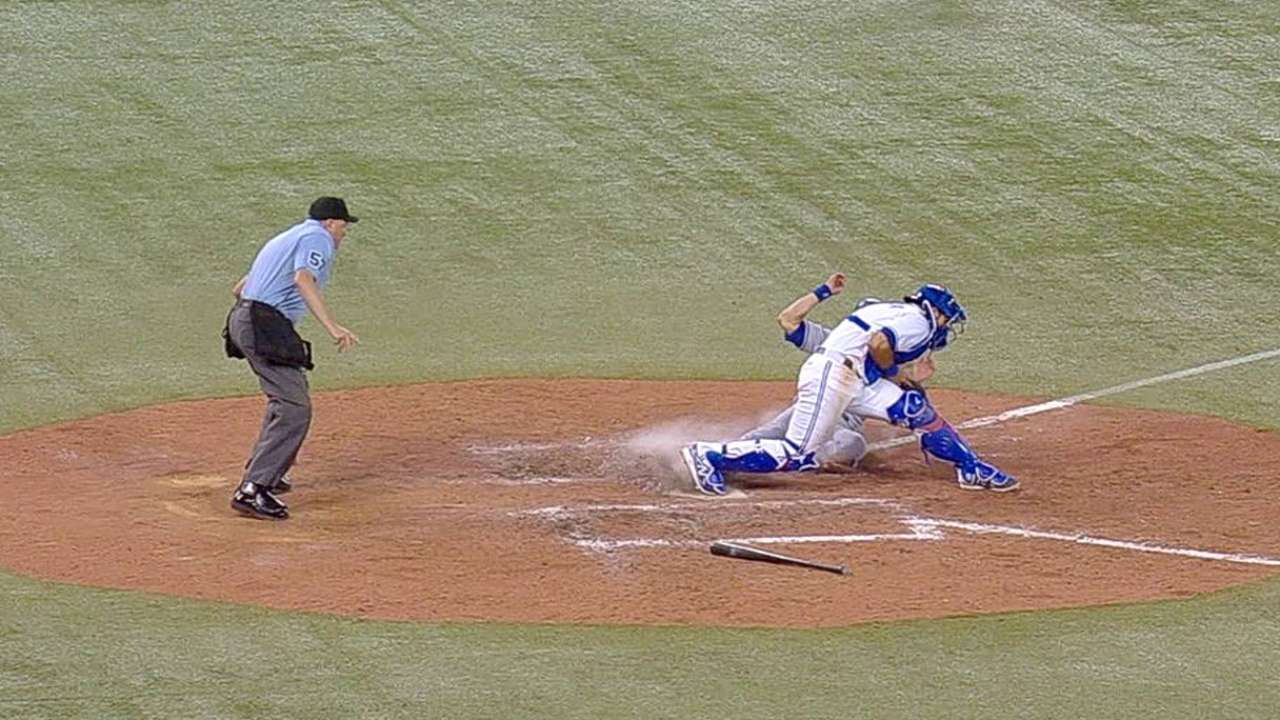 FORT MYERS, Fla. -- At this point in his career, Dustin McGowan will take the good news where he can get it. McGowan, who has gone through a litany of injuries that includes elbow surgery and three operations on his shoulder, finds himself healthy and competing for a spot on the Blue Jays' roster.
The right-hander has been held to just 30 appearances since the outset of the 2009 campaign, but he thrived as a reliever in 25 games last season. McGowan made his second appearance of the spring on Monday, and though he didn't get the results he wanted, he found a bright side.
"I threw the ball. I don't know if I'd call it pitching," McGowan joked after his outing. "I feel great. I guess that's the disturbing part: I feel so good. I guess in Spring Training, that's all you can ask for."
McGowan, who will turn 32 before Opening Day, has long been one of Toronto's most intriguing arms. Now, with his baseball odometer rolling over, he's trying to work past the injury curve. The Blue Jays aren't sure whether McGowan fits better as a starter or a reliever, but they're willing to find out.
"That's the million-dollar question. It's something I don't know the answer to," said McGowan of whether there would be less strain on his arm starting or in relief. "I don't know if I threw 100 pitches if I'd get too sore and couldn't take a while to recover. It's part of the process. Finding out."
McGowan only worked an inning in Monday's 12-2 loss to Minnesota, but he allowed two hits and was charged with three earned runs. He said that the main culprit on Monday was his inability to throw the breaking ball for strikes, and that he found himself falling behind in the count because of it.
McGowan admits that he's a "longshot" to earn a rotation berth, but he said he'd love the opportunity if it was granted to him. And right now, the Blue Jays want to maximize his chances for success.
"We're monitoring it. We'll see what happens with it," said manager John Gibbons. "I have some doubts whether that will work. If it gets to the point where we see it's not going to work, we'll shut him down. He's a guy, when he was a starter before he got hurt, he could throw a lot of pitches."
Now, though, McGowan can delight in small victories. McGowan feels healthy, he's throwing hard and everything else will sort itself out. And as for his injuries? He feels they're behind him.
"I don't think the word frustrating can even start to explain it," said McGowan of his injury-filled odyssey. "It's in the past. It's over with now and I've got years to look forward to now."
Spencer Fordin is a reporter for MLB.com. This story was not subject to the approval of Major League Baseball or its clubs.