Gibbons not worried about Happ's early struggles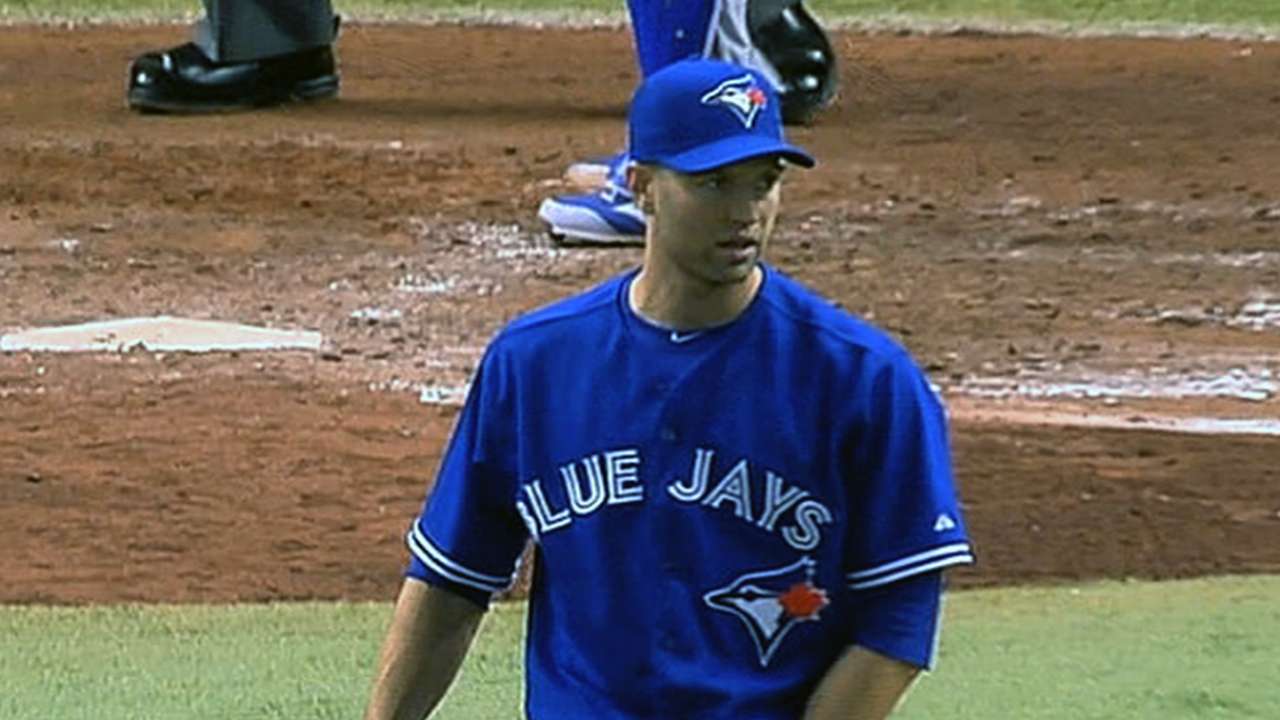 CLEARWATER, Fla. -- J.A. Happ has gotten off to a very rough start this spring, but his job in the Blue Jays' rotation does not appear to be in jeopardy.
In two starts, Happ has surrendered six runs while recording a total of four outs. He's allowed six hits, five walks and owns a 8.25 WHIP as opponents are hitting .600 against him.
Happ entered camp with a guaranteed job in the starting rotation, and while his recent outings haven't done much to justify the club's stance, the Blue Jays are sticking with the original plan.
"He had a bad outing, I'm not worried about J.A.," Blue Jays manager John Gibbons said a day after Happ's rough outing vs. Minnesota. "He has been battling a little bit of a stiff back. He's not going to use that as an excuse, we're not going to use that as an excuse, but it can affect you a little bit.
"It wasn't like he was scattering [balls] everywhere. He was close, but still, the name of the game is throwing strikes. If you work ahead, you have the advantage. If you fall behind, they have the advantage."
Happ's spring hit an early low point on Monday in Boston when he was unable to get out of the first inning. He allowed four runs on two hits and four walks and managed to get ahead in the count on just two of the batters he faced.
The 31-year-old Happ has experienced a lot of difficulty throwing strikes, and when he does find the zone, the opposition has been recording a lot of hard-hit balls. Still, the Blue Jays stress that it's very early in camp and there are almost four weeks remaining for Happ to work out the kinks.
"A lot of it too is mindset," Gibbons said. "The guys that are pretty secure on being on the team, just attack them. Get your work in. When you give up a few runs through contact, there's nothing wrong with that. We want them all to get in the right frame of mind, attacking the zone. We're looking for contact -- if we get ahead, we can expand the zone. That's what we're looking for.
"We like Happ. I think that one is out of the way and I expect him to have a good one the next time out."
Happ went 5-7 with a 4.56 ERA in 18 starts for Toronto last year. Gibbons and general manager Alex Anthopoulos talked at length during the offseason about how Happ's new arm angle should be a recipe for success in 2014. Happ dropped his arm angle, which the club believed would help command the ball from side-to-side as opposed to top-to-bottom.
The improved accuracy of Happ's pitches has been apparent in side sessions but has yet to transfer into game situations. But Happ does seem happy with the mechanics, it's just that the results haven't been there quite yet.
In a way, that's how the entire Blue Jays pitching staff looked against the Twins. Toronto walked eight batters and allowed 14 hits in a 12-2 loss. Finding the strike zone appeared to be Toronto's biggest issue.
"Yes and no," Gibbons said when asked if he was concerned. "I know the guys can throw strikes, we've seen them all do it. But you have to get in the zone. That's pitching 101. Take your chances, look for contact. It seems like we've been steering away from contact a little bit, and that's a recipe for disaster."
Gregor Chisholm is a reporter for MLB.com. Read his blog, North of the Border, and follow him on Twitter @gregorMLB. This story was not subject to the approval of Major League Baseball or its clubs.