Romero re-emerges with dominance vs. Rays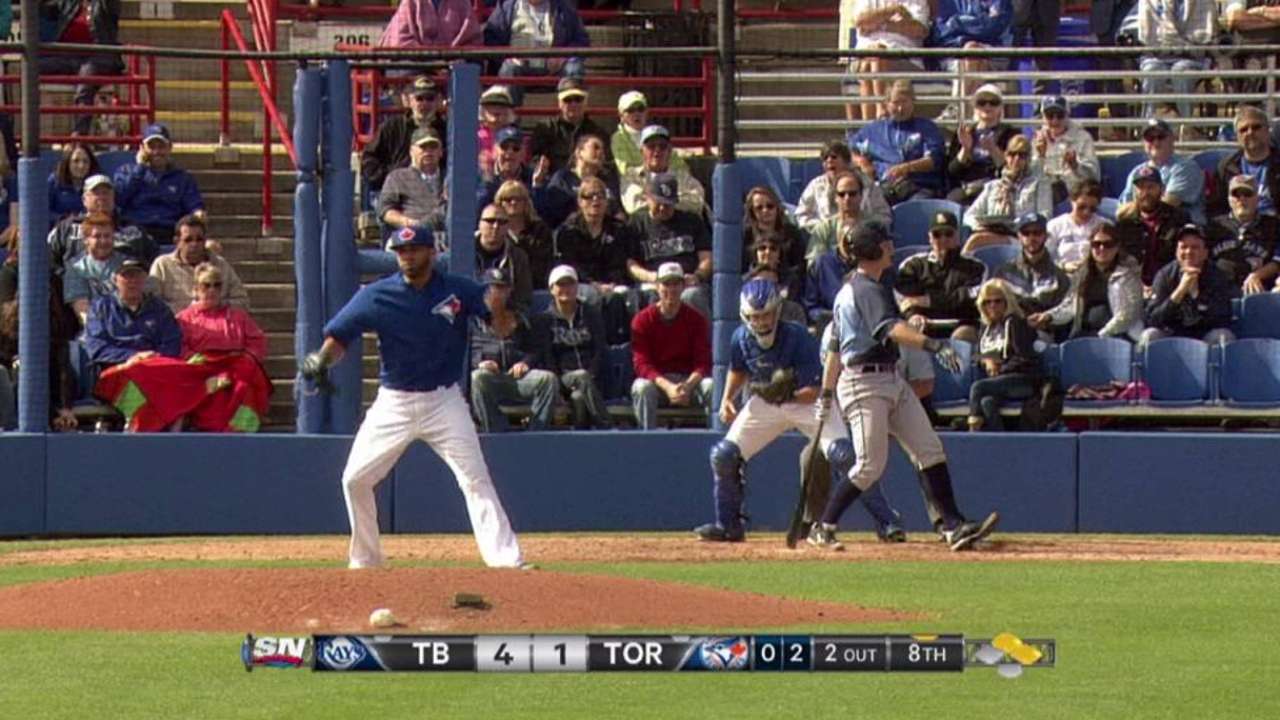 DUNEDIN, Fla. -- Ricky Romero ended his two innings of work Friday with a strikeout of the Rays' Richie Shaffer, and for the first time in recent memory, he pumped his fist in celebration.
The Blue Jays left-hander allowed just a bloop single and one walk over both a scoreless seventh and eighth inning. The performance left him fired up, and the emotion was even more evident in the reaction of his teammates.
Players lined the dugout to greet him, and the likes of Mark Buehrle, Dioner Navarro, Brett Lawrie and Adam Lind had high-fives and words of encouragement waiting in the clubhouse upon his arrival. It seems everyone is rooting for the comeback.
"It's crazy, it just shows you that these guys really care, and they want to see me back up there," Romero said. "They know what I can bring when I'm good. I wasn't expecting it, it was crazy, seeing Buehrle and Navarro and everyone else. It feels really good."
The outing came several days after an outing vs. the Orioles in which Romero walked the first two batters he faced. Control has been his biggest issue the past couple of years, and at times it appears to have caused him a lot of mental anxiety on the mound.
That is one reason why Romero and the Blue Jays decided to keep things simple on Friday afternoon. He didn't try to paint the corners and instead had catcher Josh Thole set up in the middle of the plate for each pitch.
"I told Thole before, I told him just set up down the middle for right now, because everything is moving, everything has action; if I try to hit corners, it's going to end up a ball," Romero said. "So that's what we did.
"It feels good just to be back out there for more than one inning, the feeling of sitting down and getting back up and just trying to take advantage of every opportunity that's given to me right now, and we'll see what happens."
The Blue Jays have a couple of open spots in the rotation for which Romero could be considered. The problem is that he was removed from the 40-man roster last year, and his name is rarely mentioned by either the coaching staff or the front office as a viable candidate.
The only way Romero will enter that mix is by forcing the club's hand through his results. He has not been handed anything over the past couple of years, but with a few more outings like the one he had Friday afternoon, it is possible his name will once again be on the club's radar.
"Obviously my goal is to make the team out of camp," Romero said. "But I'm going to take advantage of every opportunity, whether it's the seventh, eighth inning, whether it's a start here and there. I don't make those decisions.
"All I can do is make it hard on them, just take a look at me, because I feel like my stuff is starting to come along. I still feel like it's a work in progress. I'm not worried about it."
Gregor Chisholm is a reporter for MLB.com. Read his blog, North of the Border, and follow him on Twitter @gregorMLB. This story was not subject to the approval of Major League Baseball or its clubs.