Rasmus playing catch-up, but not rushing back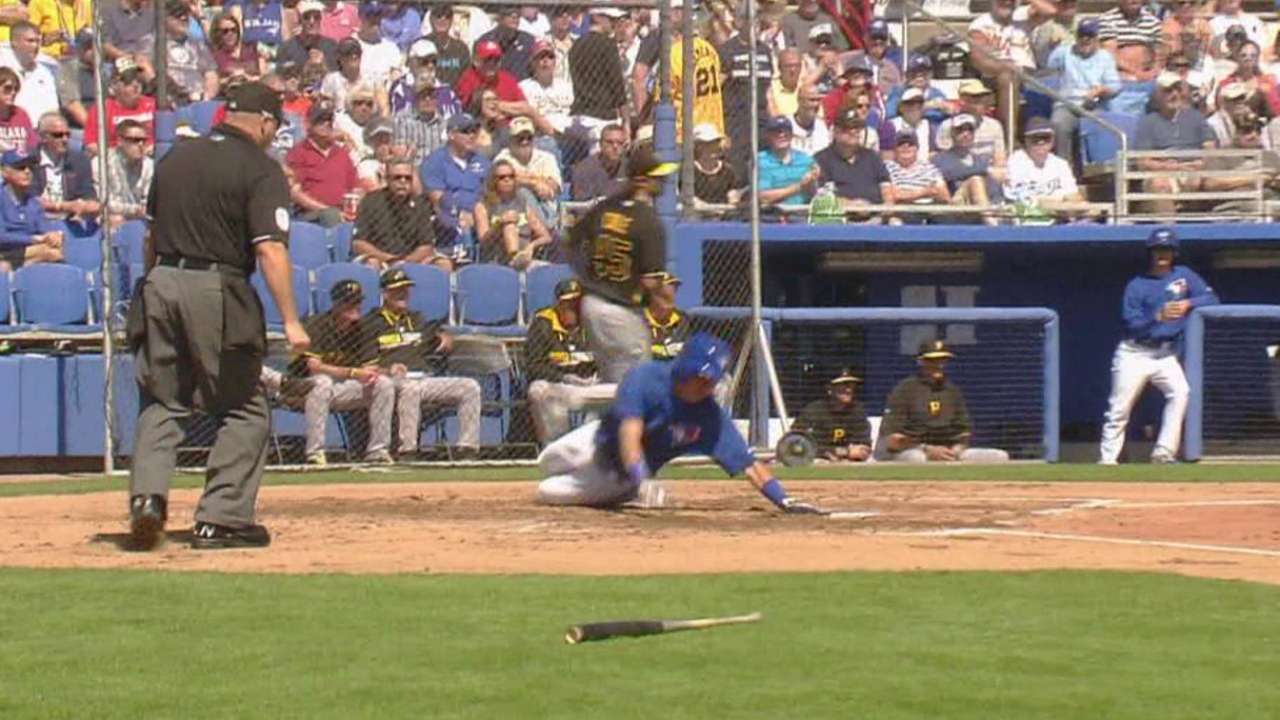 ST. PETERSBURG, Fla. -- Colby Rasmus made his return to the Blue Jays' lineup on Tuesday afternoon following an 11-day absence because of a sore neck.
Rasmus hadn't played since Feb. 28, but was given a clean bill of health earlier this week. He resumed baseball activities on Saturday and worked out for two days before getting back on the field for an official game.
The 27-year-old went 0-for-2 with a walk and a strikeout in a 12-2 victory over the Canadian Junior team, but the most important thing is that he is once again facing live pitching.
"I feel it is," Rasmus said when asked if he's now headed in the right direction. "I haven't really done much swinging up to this point. I just kind of got thrown into the game, but I played and felt good, so we'll go from there."
There's very little doubt that Rasmus is currently behind the rest of his teammates in preparations for the start of the regular season, but the good news is that he still has just under three weeks left to catch up. That should be more than enough time to get up to speed and receive an appropriate number of at-bats.
Rasmus said he expected to play again Wednesday afternoon, but he's not about to force himself into extra playing time just because he's currently behind everyone else. It will be important not to overdo things before the first game of the year.
"Just get back into my normal routine, what I've been doing and getting to do my normal stuff will get me right back," Rasmus said. "I'll be fine, I'm not worried about it.
"We have 162 games to play, you're going to have some bumps in the road at the beginning, middle and all the way through. For me, just keep my legs under me, keep my body right. Just relax, take my time, get to feeling good, get the body feeling good and we'll go from there."
Rasmus enjoyed a breakout season at the plate in 2013. He hit .276 with 22 homers and 66 RBIs while posting an impressive .840 OPS in 118 games.
Gregor Chisholm is a reporter for MLB.com. Read his blog, North of the Border, and follow him on Twitter @gregorMLB. This story was not subject to the approval of Major League Baseball or its clubs.