Rogers struggles while working on changeup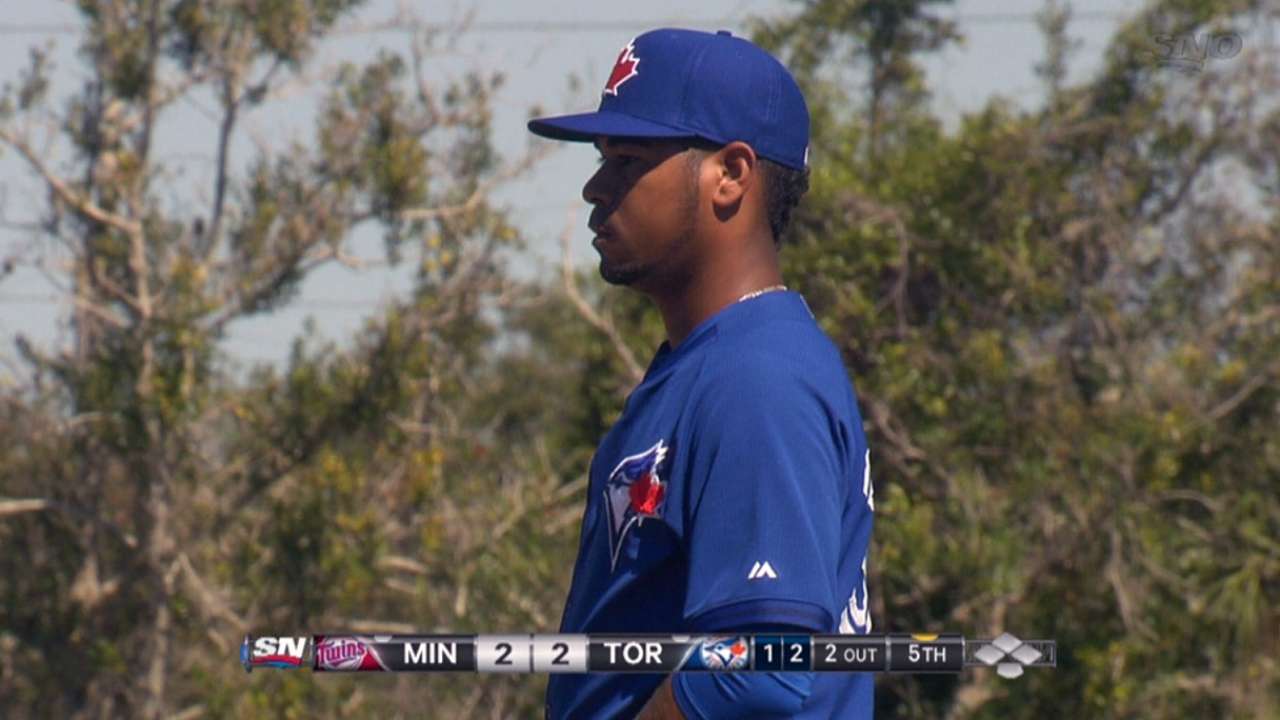 DUNEDIN, Fla. -- Esmil Rogers saw his struggles this spring continue as he surrendered four runs over three innings vs the Astros on Thursday afternoon.
Rogers allowed five hits, two walks and gave up a pair of back-to-back homers in the Blue Jays' 7-5 loss to Houston. He has now surrendered seven earned runs in nine innings this spring while competing for the final spot in Toronto's starting rotation.
The biggest problem Rogers has been experiencing this spring is a lack of command. He has left a lot of pitches up in the zone, and the end result has been a number of hard-hit balls.
"First inning, he was good and then he was shaky after that," Blue Jays manager John Gibbons said. "The key for him is throwing enough strikes. He can be a heck of a pitcher when he gets the ball in the strike zone. We've seen it before, but that's where he runs into trouble. He has to do that, he has to do that to be effective."
To a certain extent, the subpar results can be a little deceiving, because Rogers is working on a few things that he might not necessarily try during the regular season. He is attempting to refine a changeup, but so far he hasn't had too much success with it.
The second home run of Thursday's game came on a poorly located changeup up in the zone. A better change would go a long way in improving his overall arsenal, but it's clear that it's not quite ready. Despite his struggles, Rogers intends to keep throwing it the rest of spring in an attempt to refine the pitch before the start of the regular season.
"I want to keep throwing it, because the only way I can get better is when I pitch and throw the changeup," Rogers said.
"I just have to make my pitches and working a little bit more out of the stretch and try to get my command out of the stretch because I'm a little quick when I have runners on base."
Gregor Chisholm is a reporter for MLB.com. Read his blog, North of the Border, and follow him on Twitter @gregorMLB. This story was not subject to the approval of Major League Baseball or its clubs.