Dickey uses Minor League start to stretch out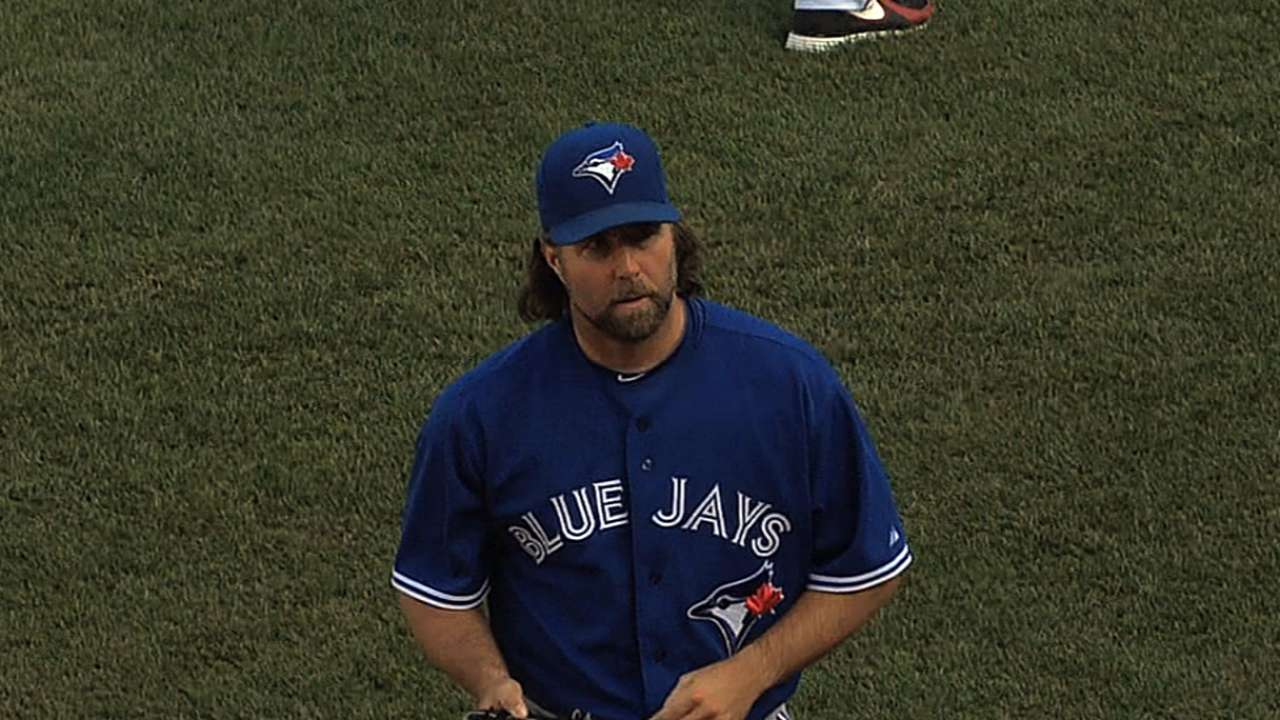 CLEARWATER, Fla. -- R.A. Dickey has moved one step closer to being ready for his Opening Day start against the Rays on March 31.
Toronto's knuckleballer allowed two runs over 7 2/3 innings during a Minor League outing against the Phillies on Saturday afternoon. He allowed six hits and two walks while striking out two.
He threw exactly 100 pitches and will attempt to repeat that performance for one more outing before dialing things back in his final game of the spring.
"I feel like I'm on schedule, I feel good, and my knuckleball is moving quite well right now," Dickey said. "So we'll see -- it's always a work in progress, I'm always trying to learn about the knuckleball.
"How I can manipulate a little bit different, maybe I can add a different bullet, because I'm going through the AL East again this year. So even though they didn't see the real me, I feel like, especially early on, I'm still looking for other weapons."
Dickey's second Spring Training with the Blue Jays has been different than his first one. Last year, Dickey had to prepare quicker than normal in order to pitch for Team USA in the World Baseball Classic. This year, he has been able to go at his own pace.
The workload Dickey sets for himself is also a lot different than any other pitcher on the Blue Jays' staff. Toronto's other starters have been throwing approximately 75 pitches during their outings, while Dickey is 25 pitches -- and two innings -- beyond that.
One of the main reasons is because Dickey likes to build up his endurance and then use his final spring outing to experiment with a few things. That start vs. the Yankees on March 26 is when he'll work on one or two things that need to be refined before the regular season.
"I think by that time I'll know, I'll be comfortable enough with my game-ready stuff to know what I may need to work on," Dickey said. "If anything. Maybe it's just to be consistent and that's something to work on, too. Maybe it's a cutter.
"I can use that outing any way I want to. Maybe it's to work on sequences that I'm going to use against the Tampa Bay Rays. Maybe I'm not facing [Derek] Jeter and [Jacoby] Ellsbury and those guys against the Yankees, who I get to play my last outing. Maybe I'm facing [Desmond] Jennings, [Evan] Longoria and those guys. It's a great luxury."
Dickey's only trouble on Saturday afternoon against his Minor League opponents came in the fourth inning, when he had runners on second and third with two outs and then threw a poor pitch that was sent into the gap in right-center field for an RBI double.
Outside of that one inning, Dickey was almost flawless. There were a lot of weak ground balls and shallow fly balls, and most of the hits he allowed seemed to just barely find a hole. There also were a lot of quick swings, but that shouldn't come as a surprise, considering his level of competition.
Dickey used this Minor League outing to take a closer look at himself and the way his knuckleballs are moving as opposed to the final outcome.
"I think it's a great mental exercise. Obviously, when you're facing the Major League guys, there's probably an extra gear in there, especially if it's in front of a crowd," said Dickey, who had a 3.57 ERA after the All-Star break in 2013.
"It's natural that adrenaline is going to be a factor, but it's a great mental exercise to come out here and execute your pitches regardless of the situation, surroundings, competition. I'm competing against myself more than I am those guys anyways, so it's a great exercise for me."
Dickey is scheduled for another Minor League game on March 21.
Gregor Chisholm is a reporter for MLB.com. Read his blog, North of the Border, and follow him on Twitter @gregorMLB. This story was not subject to the approval of Major League Baseball or its clubs.