Morrow finds positives in outing vs. Phillies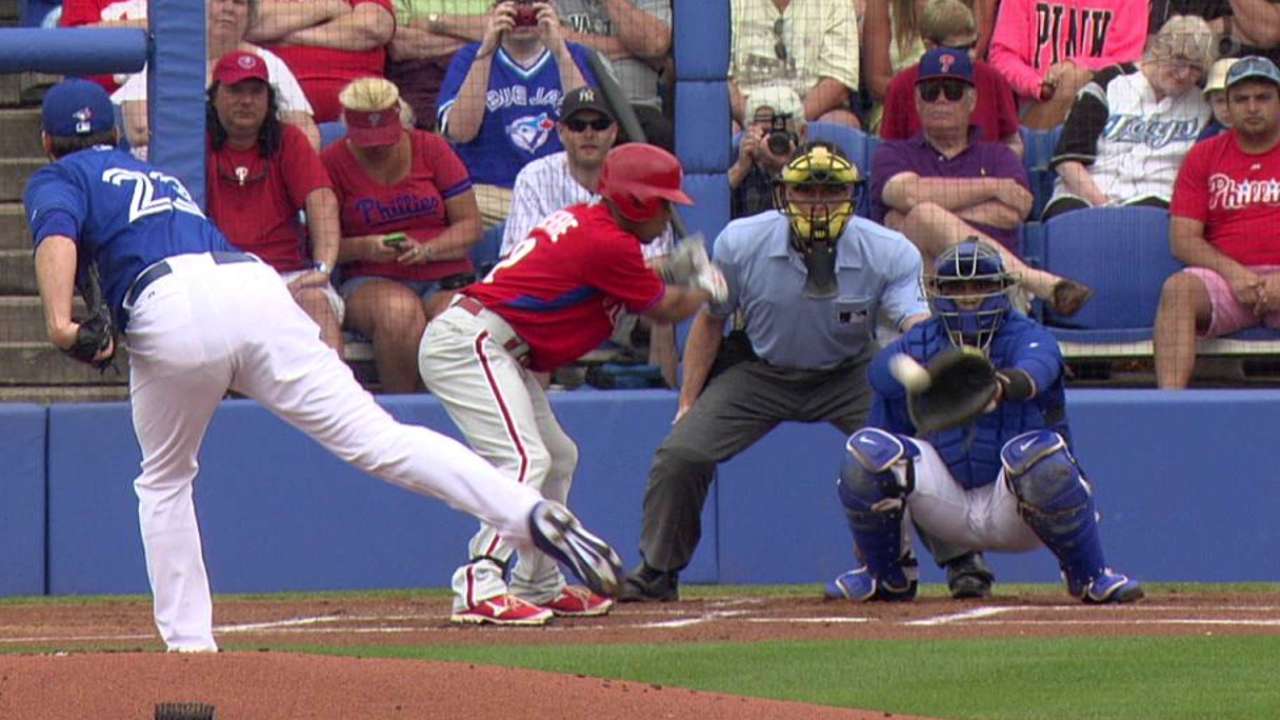 DUNEDIN, Fla. -- Brandon Morrow had a slight improvement with his overall command on Monday afternoon, but he still has some work to do in that area before the start of the regular season.
Morrow has been battling inconsistent fastball command for most of the spring. It has been his top priority for the past several weeks, and his start vs. Philly in the Blue Jays' 6-3 loss on Monday was a step in the right direction.
Toronto's right-hander allowed four runs, but managed to avoid a lot of hard contact. The problem is that there were also three walks in five innings, including two on four pitches.
"Out of all of the base hits, none of them were really struck all that hard," said Morrow, who allowed five hits in five innings. "Every one was on a really good pitch. There's really not a lot to complain about as far as the pitches they hit.
"But obviously I would have liked to have not walked the two guys in the scoring innings that set up the scoring for them."
Outside of those two four-pitch walks, Morrow's fastball command was a lot closer to where it should be for the first week of the season. He also got his pitch count up to 74, which was his highest of the spring.
Morrow's next outing is scheduled for Saturday against the Mets in Montreal. Toronto has yet to officially confirm its rotation, but Morrow is expected to pitch in either Game 4 or 5 of the regular season.
Morrow dealt with a forearm injury last season and a torn oblique in 2012, so it's pretty clear what his top priority is for this year.
"I have to prove I'm going to stay healthy, that's No. 1, obviously," Morrow said. "I'm sure that's no surprise. Especially last year, I mean, the oblique is just so far in the past, it's a non-issue. I haven't had any problems with that at all. But staying healthy this year is my No. 1 goal."
Gregor Chisholm is a reporter for MLB.com. Read his blog, North of the Border, and follow him on Twitter @gregorMLB. This story was not subject to the approval of Major League Baseball or its clubs.