Vying for rotation spot, McGowan solid in Minors game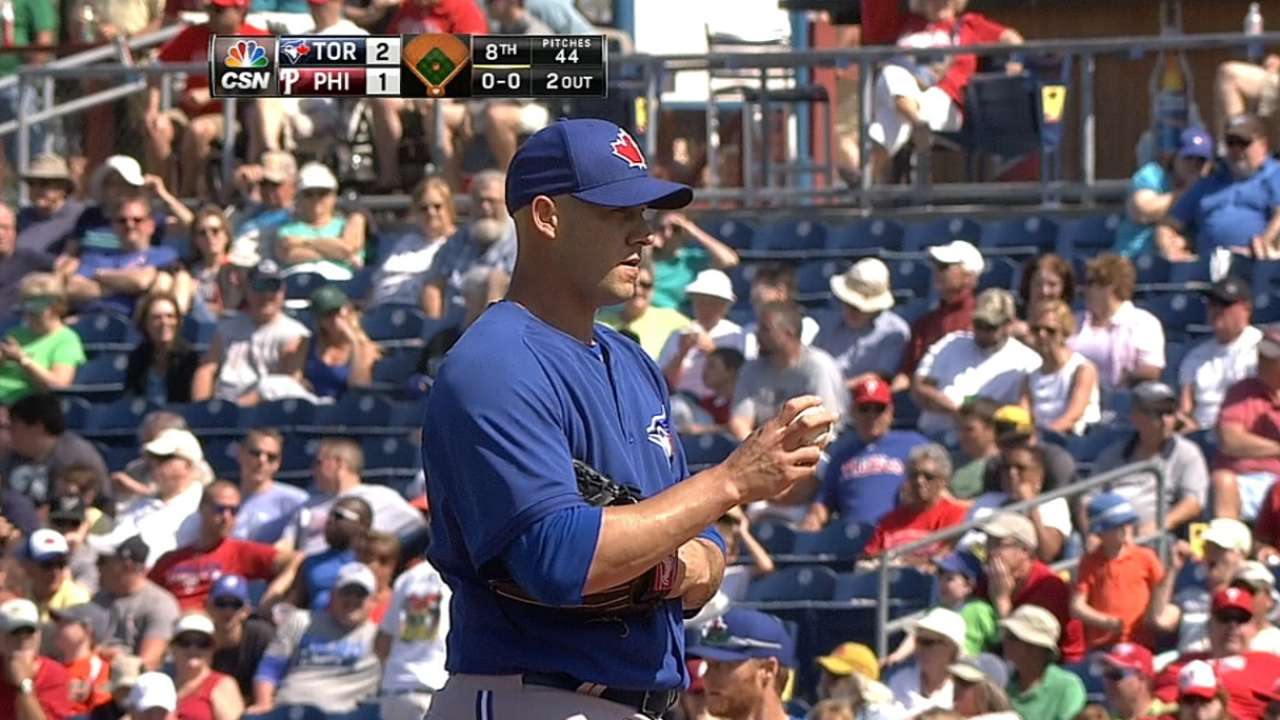 BRADENTON, Fla. -- Dustin McGowan continued to make slow and steady progress toward a potential spot in the starting rotation by throwing 62 pitches in a Minor League game on Tuesday afternoon.
McGowan pitched four scoreless innings while allowing just three hits and recording four strikeouts without any walks. He threw 41 of his pitches for strikes and consistently hit 92-96 mph on the radar gun.
The start was another step in the right direction, but the true test will come in the next day or two when the Blue Jays determine how McGowan is able to physically bounce back from the extended outing.
"The big thing is that we don't get ahead of ourselves because we re-evaluate it almost daily to see how he feels," Blue Jays general manager Alex Anthopoulos said. "I always remind him as well, I keep reminding him that at any time any concerns, any tweaks, anything at all, he needs to tell us, and he said, 'Absolutely.'
"He's obviously a big part of wanting to do this as well. As I told him when we were even exploring this, he needs to want to do this because we would never take chances with his career or with his health. He's the one who knows how he feels. He's been through this enough times. He has to communicate with us."
The organization's concern for McGowan's health is understandable considering his past injury history. The 32-year-old has undergone multiple surgeries on his right shoulder over the years and his healthy stints in the big leagues have been few and far between dating all the way back to 2008.
McGowan wasn't even considered a legitimate candidate for the starting rotation at the start of the spring, but that changed when the other competitors struggled. J.A. Happ, Esmil Rogers and Marcus Stroman all were unimpressive, while Todd Redmond is viewed by a lot of people as being better suited for long relief.
That created an opening for McGowan, but the fact that he has topped out at 62 pitches with less than a week to go until Opening Day is rather alarming. Pitching coach Pete Walker said late last week that the goal was to have McGowan throw 85 pitches in his final outing of the spring and that still remains a possibility.
The pitch count would have been higher earlier in camp, but a flu bug that has been going around the Blue Jays clubhouse in recent weeks put an end to that.
"He got set back when he got sick, he missed about 10 days," Anthopoulos said. "If he hadn't gotten sick, he would be more built up. So the question now is, obviously we're running out of time to get him built up for the season, so what do we do? He obviously had an ailment, or a sickness, or whatever it was for those 10 days with the flu.
"He missed all that time. We had built him up. He had thrown 36 pitches in a game, was out nine days or so, then we had to come back and I think he only threw 22 or 25 because we couldn't just run him out and build off the 36. He would've gone 36, 48 and we would've been that much farther ahead, but he lost that time and we had to start over again."
Time is now running out but barring any last-minute setbacks it still appears as though McGowan is very much in the running -- and quite possibly the favorite -- for the final spot in Toronto's rotation.
Gregor Chisholm is a reporter for MLB.com. Read his blog, North of the Border, and follow him on Twitter @gregorMLB. This story was not subject to the approval of Major League Baseball or its clubs.