After rocky spring, Happ still focused on joining rotation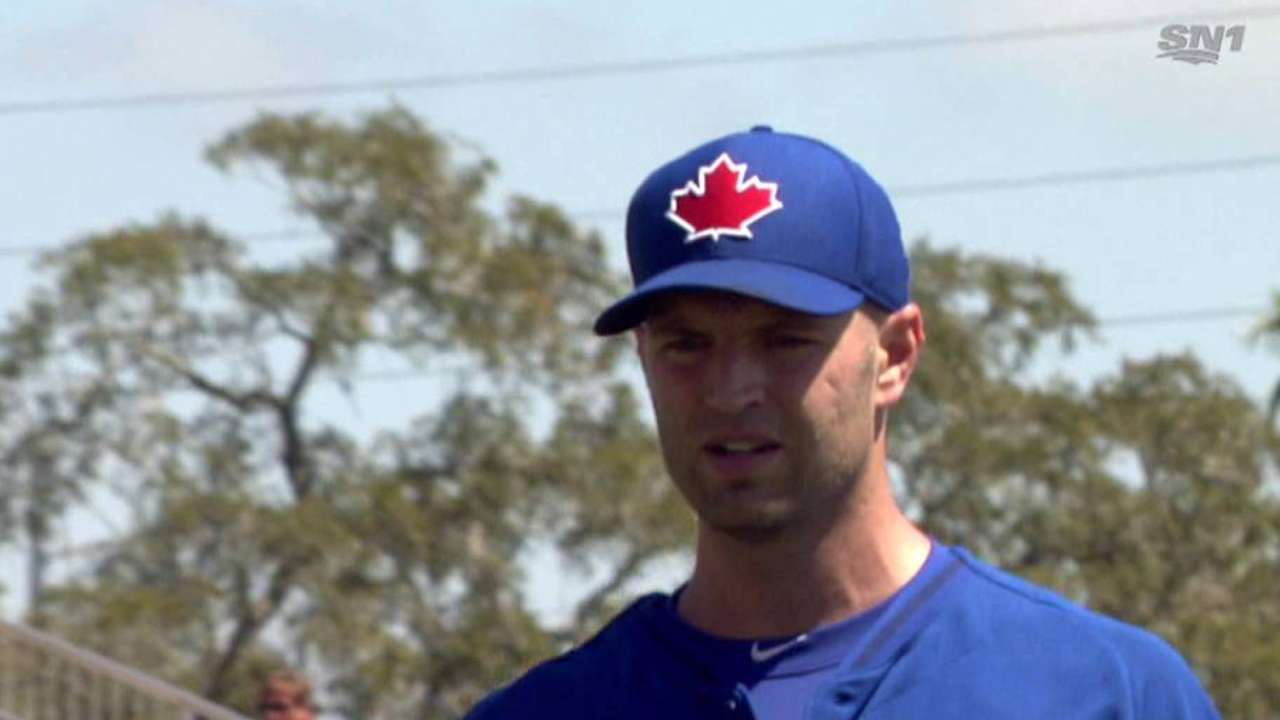 BRADENTON, Fla. -- J.A. Happ doesn't know what the future has in store, but as far as he's concerned, the expectation of a role in the starting rotation remains intact.
Happ very likely pitched himself out of a job with another disappointing outing on Tuesday afternoon, but that's not how he sees it. The veteran left-hander has yet to be informed by the Blue Jays that his starting days are over and until that happens Happ's preparations will continue.
The prospect of beginning the year in the bullpen is a notion that he claims hasn't even entered his mind yet despite a 20.57 ERA in four spring starts.
"I'm not thinking about that," Happ said when asked if he would be willing to accept a bullpen role. "I'll answer that question if someone else, one of the bosses, decides they need to ask that. We'll deal with that then. But that's not something that's on my mind."
Happ entered Spring Training with a job that was supposedly guaranteed. He appeared locked into the No. 4 spot of the rotation, but that changed a few weeks into camp when general manager Alex Anthopoulos first raised the possibility of two spots being up for grabs.
Anthopoulos based the comments on Happ's struggles on the mound and his lingering back injury. The back has since been taken care of, but the results remained the same throughout the Grapefruit League season. The low point came on Tuesday afternoon when Happ allowed seven runs on 12 hits over just three-plus innings.
Happ has now allowed 16 runs on 21 hits and nine walks in just seven official innings this spring. There have been control issues all spring, but even when his pitches enter the zone, Happ hasn't appeared to be fooling very many opposing hitters.
That has generated plenty of speculation that Happ's job is in serious jeopardy. Right-hander Dustin McGowan has emerged as the favorite for the final spot in the rotation while right-hander Todd Redmond is still in the mix. Based on the numbers alone, Happ doesn't appear to have a chance, but if the rotation has changed, then he's still in the dark about it.
"I don't know who's all saying they're changing," Happ said when asked about the changing dynamic of the rotation. "I guess I'm not part of those conversations. I haven't had any with anybody that's telling me things are changing, it's kind of [the media] saying that, and maybe you're getting more information than I'm getting. I take positives and I'm moving forward, planning on continuing to get better."
Gregor Chisholm is a reporter for MLB.com. Read his blog, North of the Border, and follow him on Twitter @gregorMLB. This story was not subject to the approval of Major League Baseball or its clubs.